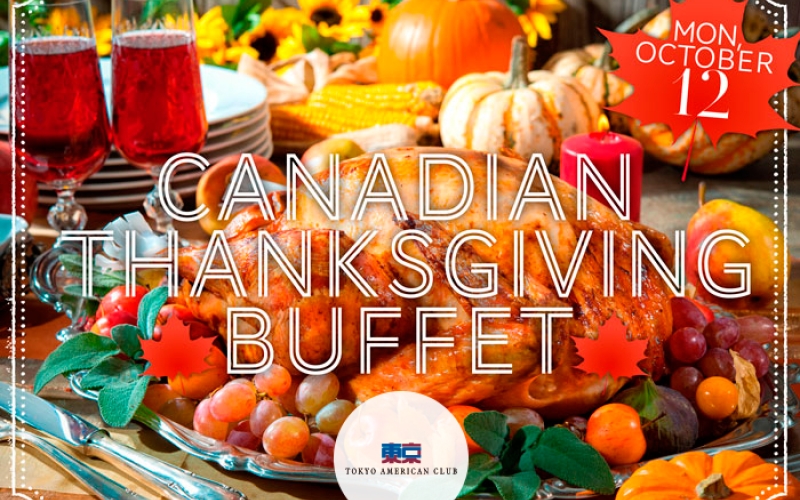 Canadian Thanksgiving Buffet
Tokyo American Club will host a Canadian Thanksgiving celebration on October 12, a public holiday in Japan.
The Club's Board of Governors recently voted to open this event to the Canadian community in Tokyo, and, as a member of the Canadian Chamber of Commerce in Japan, I would like to extend a special invitation to all members of the CCCJ, their families and guests to this Canadian Thanksgiving buffet at the Club (details below).
Besides the requisite turkey and trimmings, you can expect some fine Canadian specialties like maple sweet potato casserole with marshmallows and maple custard pie.
I look forward to welcoming members of Tokyo's Canadian community to the Club for this extraordinary taste of home.
***
Event Details:
Monday, October 12
11am–2pm and 4:30–7 pm (two-hour sittings)
Adults (18 and above): ¥6,955
Juniors (4–17 years): ¥3,200
Infants (3 and under): free
Reserve at corporate.sales [at] tac-club.org (subject: Canadian%20Thanksgiving%20Buffet) () or 03-4588-0308.
Payment can be made by major credit card on the day.
Prices exclude 8 percent consumption tax; alcoholic beverages are available on a per consumption basis.
Event Details
October 12 (Mon)


Registration Closed
11am–2pm and 4:30–7 pm (two-hour sittings)
Tokyo American Club
Tokyo American Club
As outlined above
Registration is Closed