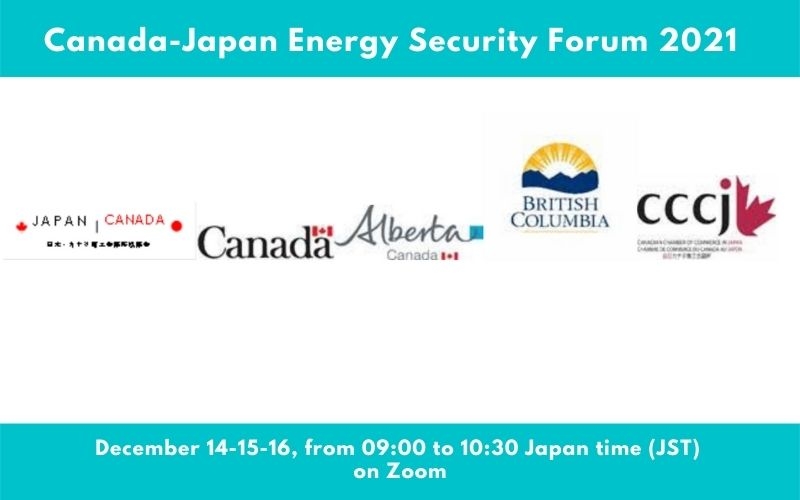 Canada-Japan Energy Security Forum 2021
The Embassy of Canada in Tokyo, Japan, is pleased to invite you to the Canada-Japan Energy Security Forum 2021.
The Canada-Japan Energy Security Forum 2021 will take place on December 14-15-16, from 09:00 to 10:30 Japan time (JST). This 3-day event will feature leaders from Canada and Japan, ranging from industry, government, Indigenous peoples and academia.
Speakers will provide insights into energy security cooperation in support of a free and open Indo-Pacific; trade and investment opportunities in Canada's energy sector (LNG, LPG, hydrogen, ammonia, etc.); and energy-related infrastructure developments in Canada.
Simultaneous interpretation (English and Japanese) will be available during the event.
We invite you to view more information about the event and to register at the following link:
https://drive.google.com/file/d/1xorsO5x87LTIkzN7WGMYiE8taN_i1LLm/view?usp=sharing
Please note that you need to register for each day separately.
Company and speaker profiles to be added shortly.
Please contact
Mr. Mark Mylvaganam mark.mylvaganam [at] international.gc.ca
 if you have any questions concerning the forum.
This event is supported by:

Event Details
December 14, 15, and 16, 2021
Registration Closed
From 9AM to 10:30 AM each day
Free; to register, please visit https://drive.google.com/file/d/1xorsO5x87LTIkzN7WGMYiE8taN_i1LLm/view?usp=sharing
Registration is Closed