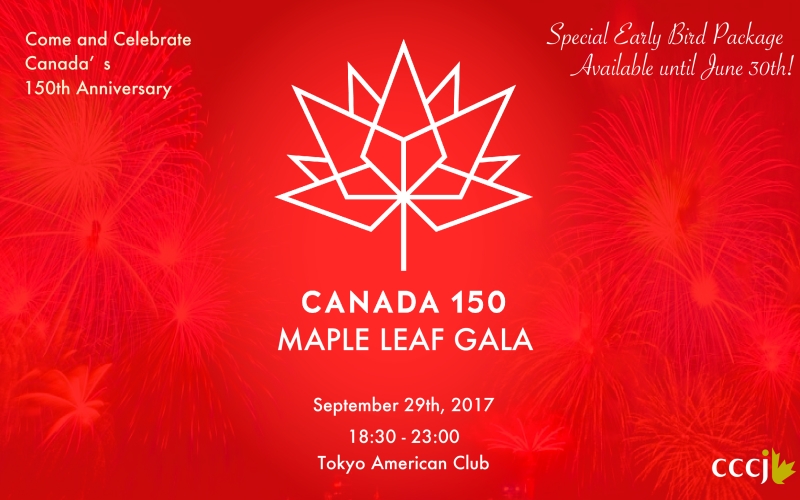 Canada 150 Maple Leaf Gala
The Canadian Chamber of Commerce in Japan is pleased to be hosting the Maple Leaf Gala on September 29, 2017 to celebrate Canada's 150th anniversary of confederation. This flagship event will feature honorary guests such as Princess Takamado of the Japanese Imperial Family, Ambassador of Canada to Japan Ian Burney. This year marks the 38th Maple Leaf Gala, which is the biggest event in the Canada-Japan business community. We invite all members and guests to celebrate this grand occasion. 
In addition, the Gala Committee has prepared an evening of prizes, performances, and some of the best Canadian food products and wine for our guests. 
This is the first year for the Gala to feature Canadian craft beer and 2016 World's Best Whiskey Crown Royal Northern Harvest. 
Location: Tokyo American Club (2-1-2 Azabudai, Minato-ku, Tokyo)
Date: Friday September 29, 2017
Time: 18:30-23:00
Dress Code: Black tie event, Male: tie, suit, tuxedo; Female: evening dress or formal kimono 
Cancellation deadline: 17:00 Friday September 15, 2017
On behalf of the CCCJ's events committee, we now invite CCCJ members and friends to register for this event.
Information on tickets and sponsorship packages are available below.
**SPONSORSHIP  PACKAGES**
The CCCJ Maple Leaf Gala is a prime opportunity for companies, governments, and other business entities to treat their important clients and/or partners and employees to an evening of top-notch food and drink, and entertainment, at one of Tokyo's premier venues. Gala Sponsorship options furthermore provide contributing entities with a chance to showcase their support of the Canada-Japan business relationship at what is largely considered the flagship Canada-Japan community event.
To become a sponsor, please contact: Jody Pang at jody.pang [at] cccj.or.jp
Platinum - ¥1,000,000
Three Tables (of 10 seats, named after your company)
Half Page ad in the event program
Recognition in Chairman's remarks
Invitation to a VIP reception
Logo projected prominently on screens during event
Logo on dedicated event webpage
Gold - ¥600,000
Two Tables (of 10 seats, named after your company)
Quarter Page ad in the event program
Invitation to a VIP reception
Logo projected prominently on screens during event
Logo on dedicated event webpage
Silver - ¥300,000
One Table (of 10 seats, named after your company)
Logo printed in the event program
Logo projected on screens during event
Logo on dedicated event webpage
Invitation to a VIP reception
150 Sponsorship Package- ¥150,000
2 Event Tickets
Invitation to a VIP reception
Logo printed in the event program
Logo projected on screens during event
Logo on dedicated event webpage
15 raffle tickets
-----------------------------------------------------------------------------------------------
Non-sponsorship tickets
Individual Tickets:
Members - ¥27,000                  Non-members - ¥30,000
To register online, please proceed to the registration details below.
-----------------------------------------------------------------------------------------------
Event Details
September 29 (Fri)


Registration Closed
09:30 ~ 14:00
Tokyo American Club
〒106-0041 東京都港区 麻布台2−1−2
As outlined above
Registration is Closed