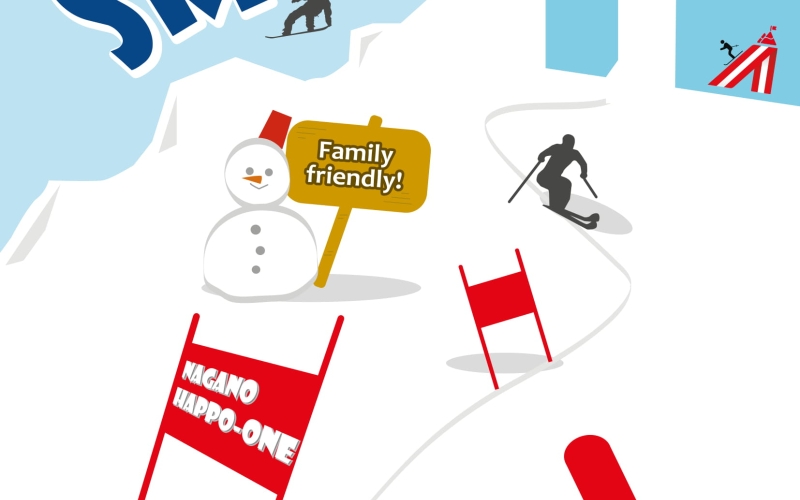 4th Inter-Chamber Ski Race
The Canadian Chamber of Commerce in Japan is once again happy to participate in the 4th annual Inter-Chamber Ski Race in 2019. 
About Ski Race:
– event location, Happo-One, Hakuba, Nagano, http://www.happo-one.jp/english/
– two runs with the better time counting
– slightly extend the length of track
– start a little bit earlier, finish around lunch time on Saturday to have Saturday afternoon free for skiing
– registration for the race is done by the Hakuba tourism agency
– evening party with great food and raffle prizes
– evening party venue, Hakuba Tokyu Hotel, 1F Grand Hall
– support by the local ski school and tourism office for setting up the race
Date:
Race day: January 26th (Saturday), we recommend staying from Friday 25th to Sunday 27st
Time:
Race start will be 9.30am, registration and pick-up of numbers starts at 8.30am
Evening/Award Party will start at 6.00pm
Participation Fee:
Race: JPY 2,500 per adult, JPY 1,250 for minors under 20
Award Party: JPY 5,500 for participants over 12yr, JPY 2,500 for children up to 12 years, free for children under 3yr
Registration:
Directly with Austrain Business Council
Hotel bookings:
Please book your own hotel! We have gathered a list of hotels in Hakuba. Please find HERE for the Hotellist.
Due to an upturn in the ski industry and interest from tourists, the weekends are usually well booked. Therefore, please book early!
Transport to the location:
Please choose your own modes of transport. The following public transport are working well in our experience:
– Shinkansen to Nagano Station, then switch to Highway Bus, approx. 2 ½ to 3 hours
Highway buses from Nagano station depart every hour. Take the East Exit at Nagano station and get on Hakuba bound buses at bus stop no. 6.
The Bus stop in Happo-one, Hakuba, is about 5min walk to the hotel
– Super Azusa Chuo limited express train directly to Hakuba station, approx. 4 hours
After arrival at Hakuba station you best take a taxi to your hotel or ask the hotel how to go there (approx. 10min by car)
– Highway Bus from Shinjuku to Happo-one, approx. 4,5 hours
Cost conscious solution with approx. JPY 9,000 go and return
Ski equipment:
If you have no ski equipment, no worries! There are plenty of rental shops in Hakuba. We recommend the Head Sports Station ( http://head-sportsstation.jp/hakuba/).
We are looking forward to your participation!
Please note, if you have friends who would like to promote this event in other organizations, please forward the flyer. The event is intended as an event open beyond chamber members.
Ski, snow, fun, race, family and friends – The 4th Inter-Chamber Ski Race in Hakuba, Nagano
Networking at a mountain retreat while enjoying a good time with friends, family and business contacts is the promise of the Inter-Chamber Ski Race series. Open also to snowboarders it brings together members of foreign business chambers in Japan, members of the Japanese business community, local top contacts from Nagano and friends of Alpine winter sports. Supporting chambers include the chambers from Australia/New Zealand, Canada, Germany, Italy, Netherlands, Spain, Switzerland, and the UK.
The event location – Happo-one, Hakuba – is one of the internationally acclaimed ski resorts in Japan and was one of the locations for the Nagano Olympics 1998.
The race in the morning of January 26 is a two-runs, painless giant slalom catering to all levels of skiers. In the last editions we also had a snowboard race, so feel free to apply as a snowboarder.
As the race finishes in the morning, the afternoon is at everyone's disposal to do skiing, snowboarding, cross-country skiing or enjoying one of the many local hot spas (onsen). The evening award and networking party brings together some 120 to 140 people including race participants, their families and friends and business contacts.
Attending the race is NOT mandatory, you are welcome to just attending the race or the evening party.
All details, the registration and online payment forms are available at the event website:
https://www.abc-jpn.net/events/4th-inter-chamber-ski-race/
This event is supported by the following Chambers of Commerce and Industry in Japan:
Austrian, Swiss , Netherland and Luxembourg, Canadian, Denmark, Australian and New Zealand.
Event Details
January 26, 2019
Registration Closed
Race: 9:30am; Party: 6:00pm
Race: JPY 2,500 per adult, JPY 1,250 for minors under 20 Award Party: JPY 5,500 for participants over 12yo, JPY 2,500 for children up to 12 years, free for children under 3yr
Registration is Closed