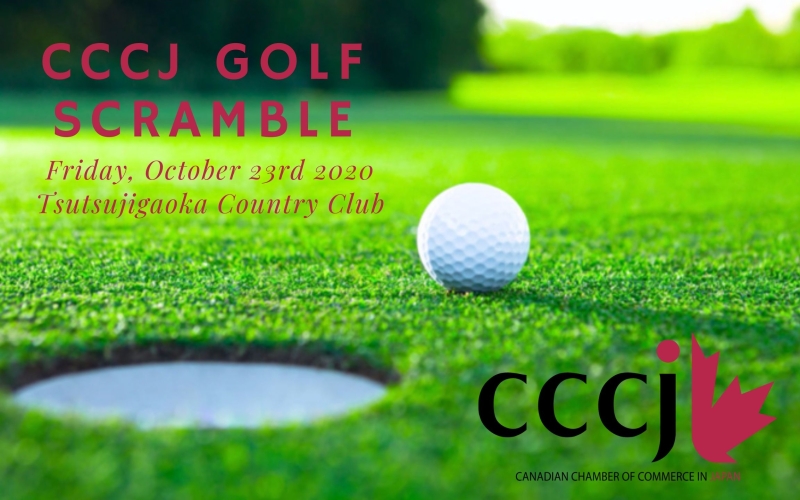 (FULLY booked!) The 2020 CCCJ Golf Scramble
- Please note that this event is fully booked -
Show Us your Game at the 2020 CCCJ Golf Scramble!
On Friday, October 23rd 2020, we're hosting our 19th Annual CCCJ Golf Tournament with an incredible array of prizes, and a few surprises!
Why are we doing it again, you might ask? Because we like fun, and hanging out with you, our valued members! Plus, there's an opportunity to do some business on the links instead of in the office.
This is a team event, so even if you're not that great, don't worry! Hit a bad shot? No problem. Just pick up your ball and set it down next to the best shot from your team and play from there. Golf has never been easier or more fun! You'll hit the best score of your life and have a chance to win some excellent prizes, too!
Teams consist of 4 people, which you can assemble yourself, or allow us to match you with other participants. To ensure appropriate social distancing and COVID-safety norms are followed, foursomes will be operating for the full-day in pods. From transportation to-and-from, to the round on the course, lunch and the post-tourney bbq, pods will be together and exclusive the whole day.
Package Contents:
Beer and assorted beverages
Green fee
Lunch and dinner (individually plated)
Rare and unique prizes
A few surprises!
Cool Prizes:
Prizes will be announced soon, but rest assured: We are arranging some outstanding offerings that will all but guarantee you'll bring your A-game! And, of course, the legendary CCCJ Trophy, along with the Golden-Red Toque will be awarded to a lucky winning team!
Venue:
Tsutsujigaoka Country Club (90 minutes from central Tokyo)
For those who prefer public transport, please make your way to Ashikaga-Shi Station, which is the closest station to the course. There is a direct train from Asakusa Station called the Ryomo Ryomo Toll Limited Express which takes approximately 90 minutes. The course is about a 20 minute taxi ride from the station.
Local (Canadian) Rules:
A one stroke penalty for slashing, hooking, or releasing your club in an obnoxious manner.
General Rundown:
Once at the golf course and checked in, we'll gather your team and begin the tournament! And have no fear: your golf carts will be equipped with a cooler filled with beers to kick back with while you enjoy your day in the sun!
Once all the teams have finished, you'll return to the club house for an amazingly tasty BBQ, all prepared in your honour. During the post-game festivities, awards will be announced to winners, as well. 
Time:
0930: Tee time
1200: Lunch
1600: Golfing ends
1700: After Party begins
Teams:
You are welcome to field your own team or to join one that needs a player.
Sponsors:
TBA
Sign up quick as numbers are limited!
Event Details
October 23 (Fri)


Registration Closed
06:00
Tsutsujigaoka Country Club
〒326-0102 Tochigi, Ashikaga, Itakuracho, 梨木沢1570
¥22,000 for members / ¥25,000 for non-members
Registration is Closed