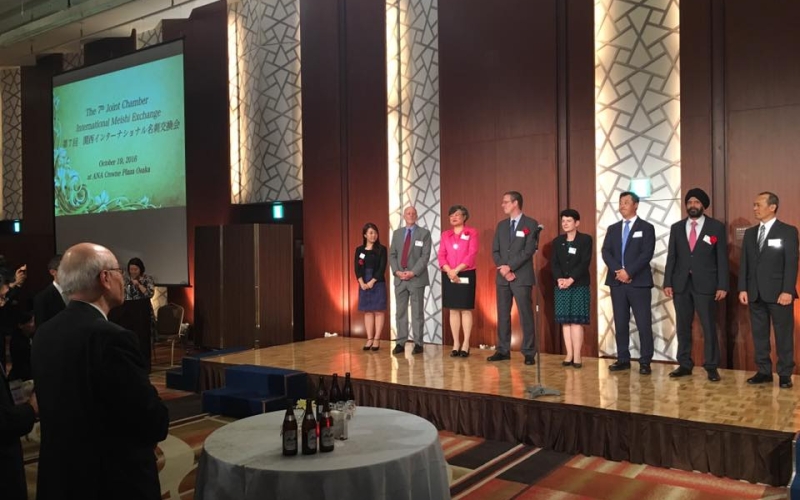 2017 Joint Chamber International "Meishi" Exchange - Kansai
毎年ご好評を頂いております「2017 関西インターナショナル名刺交換会」(第8回)を開催致します。本イベントは、国際的な名刺交換会としては、関西において最大級のもので、日本および在関西外国公館・経済団体、外資系企業との様々な分野の方々とネットワークを広げて頂ける絶好の機会です。今年は過去最大の20の在日外国経済団体などと合同で開催します。当日は、ビュッフェ・ディナーおよび抽選会を予定しております。
在日外国企業とのビジネスや海外最新事情の収集にご関心をお持ちの方など、ご同僚・ご友人もお誘い合わせの上、ぜひご参加下さい。
Now in its 8th year, about 300 participants from the international and local business community are expected to attend this popular event which is a fantastic way to meet key business people and explore new market opportunities in Kansai and overseas.
The Kansai Consular Corps, as well as city and prefecture government officials, will facilitate networking and provide market information to participants. Leaders from international and local business chambers will offer their expertise on current market conditions and potential business strategies.
In addition to growing their business networks, participants can also look forward to the cocktail reception followed by a raffle for a variety of prizes. All proceeds from the raffle will go towards charity.
For registration, please use the following link indicating your CCCJ membership.
http://www.osaka.cci.or.jp/event/seminar/201708/D11171003011.html
Event Details
October 3, 2017
Registration Closed
18:30-21:00
ANA Crowne Plaza Osaka
Banquet room"Manyo", 3rd Floor, ANA Crowne Plaza Osaka
Before September 22: JPY 8,000; After September 22: JPY 9,000
Registration is Closed