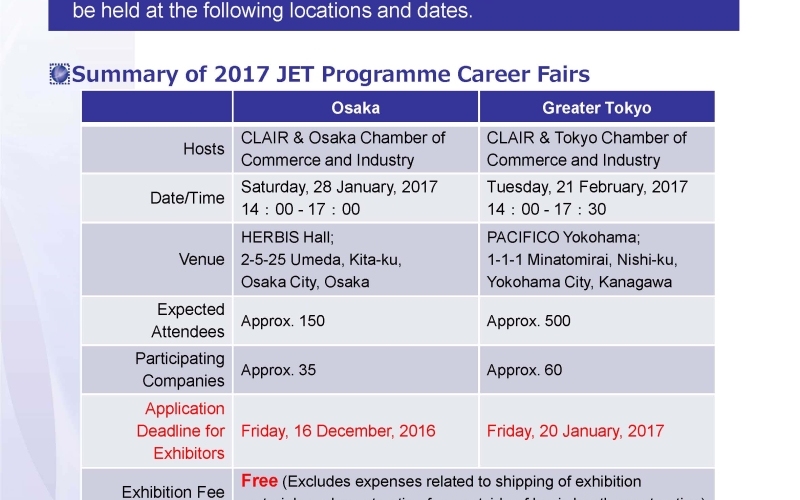 2017 JET Programme Career Fair
The Council of Local Authorities of International Relations (CLAIR) would like to invite CCCJ members to the JET Programme Career Fair in February 2017. For members interested in participating, please contact CCCJ office at info [at] cccj.or.jp or CLAIR administrative office at jet-careerfair [at] access-t.co.jp
Event Details
Hosts: CLAIR & Tokyo Chamber of Commerce and Industry
Date/Time: Tuesday, February 21, 2017 14:00-17:30
Venue: PACIFICO Yokohama; 1-1-1 Minatomirai, Nishi-ku, Yokohama City, Kanagawa
Expected Attendees: Approximately 500
Participating Companies: Approximately 60
Application Deadline for Exhibitors: Friday, January 20, 2017
Exhibition Fee: Free
About the JET Programme
The Japan Exchange and Teaching (JET) Programme is administered through the collaboration of Japan's local
government authorities, the Ministry of Internal Affairs and Communications (MIC), the Ministry of Foreign Affairs (MOFA), the
Ministry of Education, Culture, Sports, Science and Technology (MEXT), and the Council of Local Authorities for International
Relations (CLAIR).
Aiming primarily to promote grass-roots internationalisation at the local level, the JET Programme invites young, collegeeducated
individuals from around the world to participate in international exchange work and be involved in foreign language
education at Japan's local government offices, boards of education, and schools.
The JET Programme has grown significantly over its 30 year history, with the number of participating countries growing from
four to forty, and the number of participants from 848 to 4,952. Since its establishment, about 65,000 people from 65
countries have participated in the JET Programme, creating one of the largest international alumni networks in the world.
About the Participating Job-seekers
JET Programme participants are foreign nationals who have worked in Japan for 1-5 years at
local government offices coordinating international relations (CIR) or at schools assisting in
foreign language education (ALT). In practice, CIRs engage in translation, interpretation,
and international exchange event-planning; ALTs assist with foreign language education
in schools.
●Average Age:25~35
●Nationality: Mostly US, CN, UK, AU, NZ, European countries, etc.
●Japanese Ability:Approx. 50% have JLPT Level N1 or N2 (2016 Greater Tokyo Career Fair)
Event Details
February 21 (Tue)


Registration Closed
05:00 ~ 08:30

PACIFICO Yokohama; 1-1-1 Minatomirai, Nishi-ku, Yokohama City, Kanagawa
Free
Registration is Closed