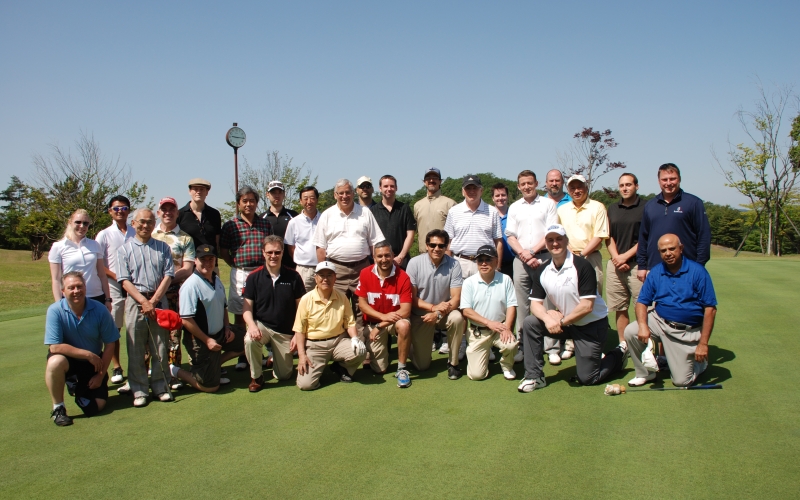 The 2014 CCCJ Golf Scramble
- Annual 14th -
In keeping with other Canadian sports, this will be a team event with all teams vying for the honour of the Golden Toque! 
Tournament: To inspire you to greatness we have an amazing selection of prizes.
Prizes: Four Ping Drivers, four Ping Putters, two sets of Ping irons, a luxurious Lexus golf bag from Toyota, three golf lessons and two driver fittings from Cool Clubs. And, of course, the legendary CCCJ Trophy.
Other Stuff: And if that's not enough to get you in the swing if things… every cart will be equipped with a cooler filled with beers (for medicinal purposes only) to heat you up, cool you down or to just kick back and enjoy your day in the sun. Along with the usual long drive and near pin prizes, this year we are introducing a Canadian twist, the Longest Slap Shot Drive (using an ice hockey stick). And yes, there is more, but then a little mystery will be good for your swing.
Venue: Tsutsujigaoka Country Club (90 minutes from central Tokyo)
Local (Canadian) Rules: A one-stroke penalty for high-sticking, slashing or fighting.
Time: Tee time is10 a.m. The bus to the club leaves from the Embassy of Canada at 6:30 a.m.
Teams: You are welcome to field your own team or to join one that needs a player.
Tournament Cost: Only ¥21,000, which includes the party bus from Tokyo, beer, water, green fee, lunch, dinner, amazing prizes and a few other goodies!
Sponsors:
Event Details
Friday, May 23
Registration Closed
Tee time 10:00am
Tsutsujigaoka Country Club
1570 Nashikizawa, Itakura-cho, Ashikaga-shi, Tochigi-ken Club Tel: 0284.64.0007 (Japanese) English Tel: 03.6450.1886/090.4662.8244 Official Japanese website: http://tsutsujicc.com General Enquiries: info@air-golf.com
21,000 Yen for Tournament and 11,000 Yen for Golf Clinic
Registration is Closed