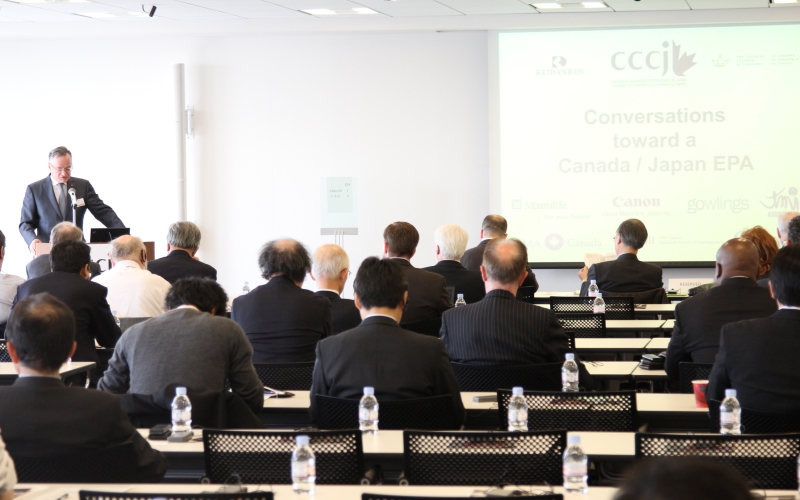 2013 Canada-Japan Trade Symposium
Event held in Partnership with the Canadian Chamber of Commerce and the Keidanren. 
Revitalizing growth opportunities through a formal Economic Partnership Agreement
April 25, 2013 | 1 p.m. – 6 p.m. | Toronto, ON
Last March, Prime Minister Harper and Japanese Prime Minister Noda announced the formal launch of talks towards a comprehensive and high-level Economic Partnership Agreement (EPA) between both nations. The first full round of negotiations came to a productive conclusion in November, with the second round set for this spring. This agreement is projected to boost Canadian exports to Japan by 67 per cent and increase GDP by US$3.8 billion.
On April 25, the Canadian Chamber of Commerce, in partnership with the Canadian Chamber of Commerce in Japan, will host a major symposium with Canadian and Japanese business leaders and trade officials. Featuring the Hon. Ed Fast, Minister of International Trade and Minister for the Asia-Pacific Gateway, the event will promote awareness and understanding of the potential and way forward for an ambitious and balanced agreement that will lead to stronger, more formalized trade relations with Japan.
Through a series of keynote presentations and expert panels, participants will hear candid perspectives on the EPA from government officials, industry associations and companies from both countries. In addition to cross-cutting issues affecting the Canada-Japan relationship, the discussions will cover opportunities and barriers to bilateral business in a number of key sectors, such as energy and mining, forestry, manufacturing, life sciences, financial and professional services, and agriculture and food.
This event is by invitation only.
For sponsorship opporutnities, please contact the CCCJ Office at 03.5775.9500
Event Details
April 25 (Thu)


Registration Closed
04:00 ~ 09:00

Toronto, Ontario
This event is by invitation only
Registration is Closed