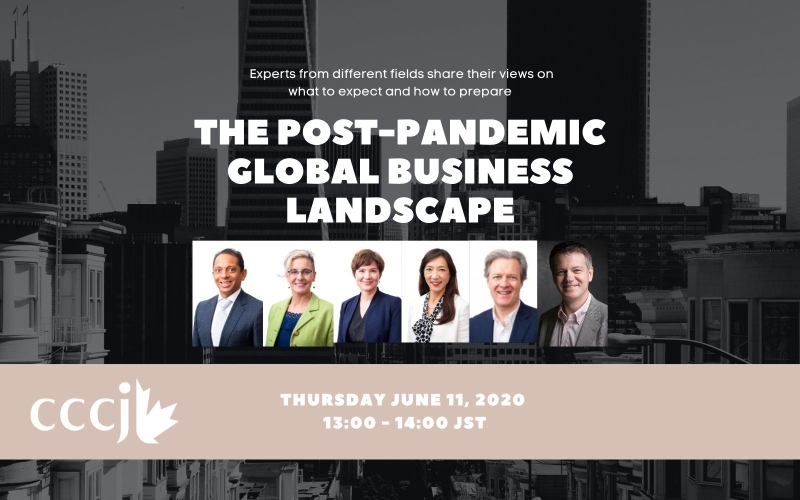 Post-COVID Business Landscape Vol. 1
Prepare for the New Reality with the CCCJ!
While the post-pandemic business landscape is still unpredictable, COVID-19 has accelerated trends that in 'normal' times would have taken much longer to take root, forced some industries to make rapid adjustments, and opened up new opportunities to build back more diverse and resilient organizations.
While the CCCJ can't predict the future, we are lucky enough to have in our community a number of experts in different fields willing to share their insights on how to understand the post-pandemic world. In this webinar, expert panelists from various fields will discuss the changes they expect to see in their respective parts of the business world.
How has the pandemic changed the outlook for M&A? What did the airline industry learn about resilience and rebuilding from the sudden crisis? Will the sudden adoption of work-from-home lead to more flexible ways of working in Japan? How might changing attitudes and workstyles reshape the urban environment? And how can organizations understand the impact of the crisis on different groups and build diversity and innovation into their rebuilding efforts?
Following a lightning round of expert insight from each of our panelists, we'll have a moderated live Q&A from the audience. 
Moderator:
Annamarie Sasagawa, Director, Corporate Culture (Global) at Kao Corporation
Panelists:
Karl Pires, Partner, Shearman & Sterling

Kiyo Weiss, Director of Sales Asia-Pacific, Air Canada

Jackie Steele, Founder / CEO, en-joi Diversity & Innovation Consulting

Darren Menabney, Global Lead, Employee Engagement, Ricoh, and Partner Faculty and Professor at GLOBIS School of Management

Gordon Hatton, Vice President, Head of Japan, Pembroke
This event will be hosted using a Teams conference room. We will send you the login details before the event.
Event Details
June 11 (Thu)


Registration Closed
13:00 ~ 14:00
Free
Registration is Closed