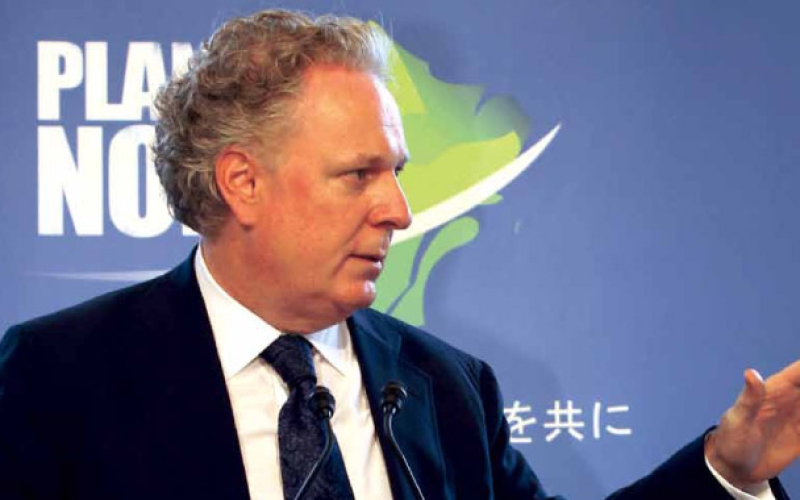 Premier of Quebec Visits Japan
The Premier of Quebec, Jean Charest was in Japan on an official visit from August 23rd to 27th accompanied by Madame Monique Gagnon-Tremblay, Minister of International Relations and Minister responsible for La Francophonie and Jacques Daoust, President of Investissement Quebec.
On August 25th, 2011, the Premier gave a keynote address at a luncheon organized by the Delegation generale du Quebec a Tokyo in collaboration with the CCCJ and attended by around 175 people, primarily from the business and the financial communities in Japan.
Premier Charest spoke positively about the new opportunity to develop a new partnership between Canada and Japan in the initiated discussions for a new Economic Partnership Agreement (EPA). Mr. Charest wanted to publicly be on the record of expressing support for the whole EPA initiative.
Mr. Charest, speaking to the primarily Japanese audience, introduced Le Plan Nord, the new initiative from the Quebec government to sustainably develop the northern regions of Quebec, while ensuring that 50% of the land to be protected from industrial activity.
The Premier noted that Quebec is more than ready to meet Japan's metal needs, stating the Province has iron ore, gold, nickel, lithium, platinum, rare earths and diamonds.
The visit and presentation from the Premier will be highlighted in the upcoming autumn issue of the CCCJ Quarterly Magazine - The Canadian.
More information on Le Plan Nord at the following link: http://www.plannord.gouv.qc.ca/English/index.asp