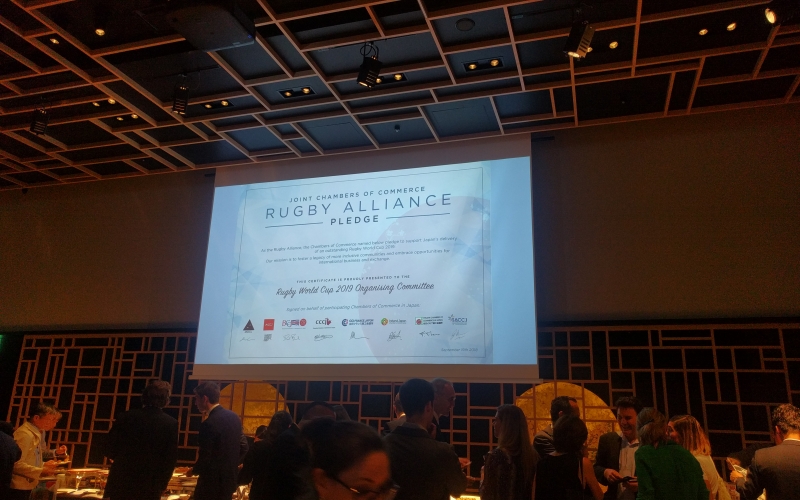 Rugby Alliance launches, coalition of 8 international Chambers of Commerce, supporting Rugby World Cup 2019
Tokyo, Japan (September 20, 2018) With only one year until the Rugby World Cup, 8 foreign Chambers of Commerce in Japan have formally announced the creation of a coalition, The Rugby Alliance, launched at a special event "Rugby World Cup 2019 – One Year To Go" on Wednesday, September 19 at Happo-en.
The mission of The Rugby Alliance is to support Japan's delivery of the 2019 Rugby World Cup, fostering a legacy of more inclusive communities that embrace opportunities for international business and exchange.
To solidify the intent of the coalition, an official certificate was received by CEO of the Rugby World Cup 2019 Organising Committee, Mr Akira Shimazu.
Representing 10 of the 19 nations that will be playing in the Rugby World Cup 2019, The Rugby Alliance is comprised of the following Chambers of Commerce in Japan.
Rugby Alliance members:
"Rugby World Cup 2019 – One Year To Go" was attended by over 300 guests, including special guests World Rugby Chairman, Bill Beaumont, World Rugby Vice Chairman, Agustin Pichot, World Rugby CEO, Brett Gosper, World Rugby COO and Head of Rugby World Cup, Alan Gilpin, and World Rugby Executive Director - Rugby World Cup 2019, Rob Abernethy.
In addition to the formal announcement of The Rugby Alliance, guests were treated to a panel discussion with Japan Wheelchair Rugby player and bronze medalist, Hiroyuki Misaka, and former Sakura Sevens player, Aya Nakajima.
Melanie Brock President Emeritus of the Australian New Zealand Chamber of Commerce in Japan said, "The Rugby World Cup 2019 in Japan provides Japanese business and our joint Chamber members a rare opportunity to work together and that's exciting and a privilege. Moreover, the Japan-wide nature of the World Cup, allows us to engage with and learn more about regional Japan. RWC 2019 will reshape the way the world sees the country."
Jaco Minnaar, Chair of the South African Chamber of Commerce in Japan said, "Rugby World Cup 2019 will mark the first time this prestigious event will be held in Asia, and this provides Japan with a unique opportunity to highlight its culture and promote local business to millions of rugby fans globally. Through support of the international business community in Japan, the Rugby Alliance is set to build out the reach of local communities and to foster diversity and inclusion.  This first event marked the start of that exciting journey, and was a testament to the Alliance's commitment to Japan, RWC 2019, and business overall."
Lori Henderson Executive Director of the BCCJ said, "We believe that this event is a key moment in time for communities and businesses – both Japanese and foreign – to celebrate the potential of the RWC 2019 as a once-in-a-generation opportunity and an agent for societal innovation. We're excited that the Rugby Alliance Chambers have pledged to support Japan's 12 host cities in delivering an outstanding tournament next year." 
In addition to the eight Japan-based international Chambers of Commerce that comprise the Rugby Alliance, this event was co-hosted by the Tokyo Chamber of Commerce and Industry.
Local Japanese Chambers of Commerce from host cities joined, utilising the event to promote regional travel and tourism.
This event marks the first of three collaborative events to be hosted by the Rugby Alliance between now and the start of the Rugby World Cup 2019, which will take place in Japan from September 20 to November 2. The global tournament will involve 20 international teams and be comprised of 48 matches in 12 host cities across Japan. It is the first time for the tournament to be held in Asia.