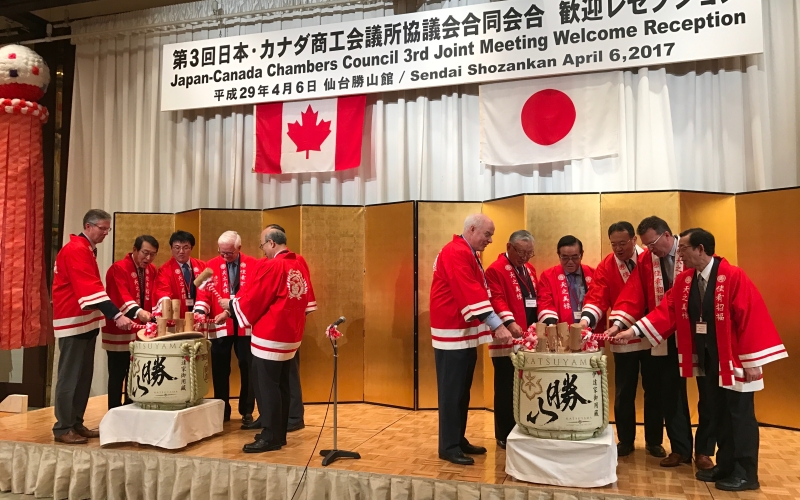 Report on 3rd Japan-Canada Chambers Council Meeting
The Japan-Canada Joint Chamber Council meeting takes place once a year alternating between Japan and Canada, to discuss bilateral business relationship and partnership between Japan and Canada. This year was attended by members of the Japan Chamber of Commerce and Industry (JCCI), Canadian Chamber of Commerce (CCC), Sendai Chamber of Commerce and Industry (SCCI), and the Canadian Chamber of Commerce in Japan (CCCJ).
The conference discussed the current bilateral business situation, including several participants expressing concern over retreat from global cooperation and free trade, and Mr. Perrin Beatty and Mr Steve Dechka expressed a strong desire to more forward with a close Canada-Japan relationship by improving cooperation on trade, investment, tourism, and education. 
The council suggested that while TPP should still be invested in, a bilateral EPA is necessary and beneficial for both Canada and Japan. The council urged both governments to move towards an eventually bilateral agreement. The Counci also suggested that bilateral industry-academia-government collaboration must be more strongly promoted between the two countries. Cross-border personale exchange especially in tourism and exchange programs should also be expanded. 
Council members also had the opportunity to visit the disaster affected areas in Miyagi Prefecture, including the "Maple Pavillion", one of the most symbolic Canadian project in the reconstruction of the Tohoku region. 
CCCJ Chair Ron Haigh attended the conference along with governors Claire Deronzier, Kiyo Weiss, David Anderson, and Eric de Groot, introducing the CCCJ as the "bridge" between Canada and Japan. Ron Haigh also formally introduced the Canada in Japan/Japan in Canada Investment Business Guide, a one-stop source for investment information for companies and individuals. This marks the official launch of the CCCJ Business Guide, which will be used by the Embassy of Canada to Japan as well as JETRO in promoting bilateral investment and businesses.