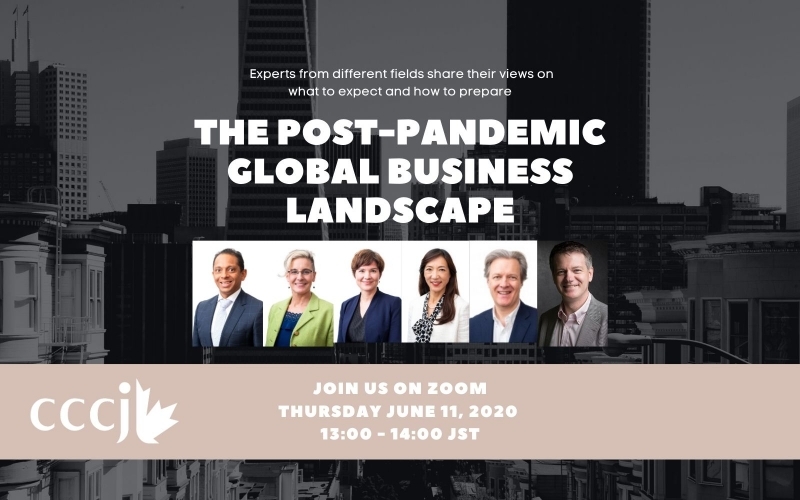 Recap of CCCJ Speaker Series Vol. 1
In case you missed it, here's a quick recap of the CCCJ Speaker Series Vol. 1 on Thursday, Jun. 11th. 
Karl Pires, a Partner at Shearman & Sterling, noted that, while COVID-19 has not impacted the volume of M&A in Japan as much as in other countries, he expects that Japan Inc., despite being "cash-rich" relative to their global competitors, will take a cautious approach when it comes to potentially seizing upon anticipated opportunities to buy "distressed" companies even at discounted prices.
Kiyo Weiss, Director of Sales Asia-Pacific with Air Canada spoke about the current state of the airline industry. Air Canada's demand recovery model based on various analytical tools and reports indicates that travel to areas with lots of tourist traffic, like Japan and Australia, will recover at a slower pace than areas with many returning workers or business travel. Full recovery of Japan – Canada traffic is expected to be Q2 2022 at this time.
Jackie Steele, Founder / CEO of en-joi Diversity & Innovation Consulting, shared a framework for looking at risks to society through a diversity lens. Challenges caused by Covid-19 were identified for various demographics. She flagged the silver lining of unpaid caregiving in the home being made clearly visible to colleagues and senior leaders, opening a historic window of opportunity for leaders to adopt remote work options as a 'given', something that millenials and foreign talent completely expect in 2020 from high performing global companies.  
Darren Menabney, Global Lead, Employee Engagement at Ricoh, discussed how Ricoh was already preparing their Japan workforce to work-from-home in preparation for the 2020 Olympics. Looking forward, over 40% of Japanese workers want to continue to work from home, so firms will need to provide employees with the choice of where to work and find the right balance between remote work and working in the office.  
Gordon Hatton, VP and Head of Japan at Pembroke, spoke about challenges that Covid-19 has brought to the built environment. Some issues like ventilation and humidity control in buildings will need to be addressed with changes from contractors or manufacturers, while other issues have a bigger scope that involves city planning. 
Thank you very much to all our panel members, attendees and our moderator, Annamarie Sasagawa.