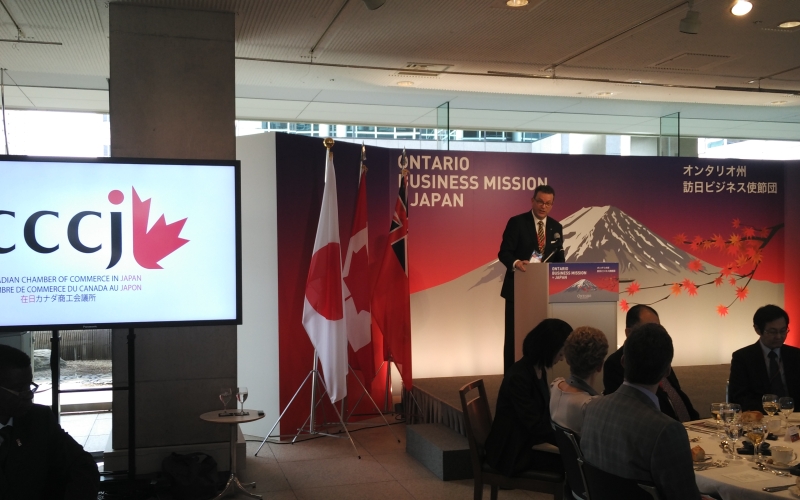 Ontario Delegation Business Luncheon
Premier Kathleen Wynne and a delegation of over 70 senior business leaders from Ontario spent a week visiting Japan and South Korea in an attempt to lure jobs and investment to the province. Two-way trade between Japan and Ontario was more than $11 billion last year alone. The delegation signed numerous deals worth over $120 million while on the ground in Japan.
As part of the delegation's visit to Tokyo the Canadian Chamber of Commerce in Japan and the Canadian Ambassador to Japan hosted a luncheon for the business delegation and their Japanese partners.
The luncheon brought together more than 180 people from various Canadian and Japanese businesses as well as senior diplomats and members of the community.
"We are very pleased to welcome Premier Wynne to Tokyo," said Ron Haigh, Chair of the Canadian Chamber of Commerce in Japan (CCCJ). Mr. Haigh also focused on the reason that his company, Toyota had invested so heavily in Ontario.
"Ontario's awesomeness lies in its advanced technology and research, start-ups, the quality of its human resources and its remarkable diversity.
Premier Wynne was gracious in her remarks about Japan and her hosts while humbly explaining the reasons that Ontario is a great place to live, work, invest and raise a family.
In a clear reference to the United States President-elect, premier Wynne noted that, "Ontario is in the business of building bridges, not walls…with continuing access to North America through the FTA and Europe through CETA."
Premier Wynne also pointed out that, "Ontario is a true technological hub that investors need to be in as the industry moves forward on the back of IoT, AI and quantum computing."
"This was a great event for Japanese and Ontario businesses," said Karl Pires, secretary of the CCCJ board of governors and local partner at White and Case. "Having senior government and business leaders come to Japan makes it easier for us to improve our bilateral relations and develop stronger business and trade ties."
CCCJ Governors Kiyo Weiss and Phil O'Neill also attended the event.