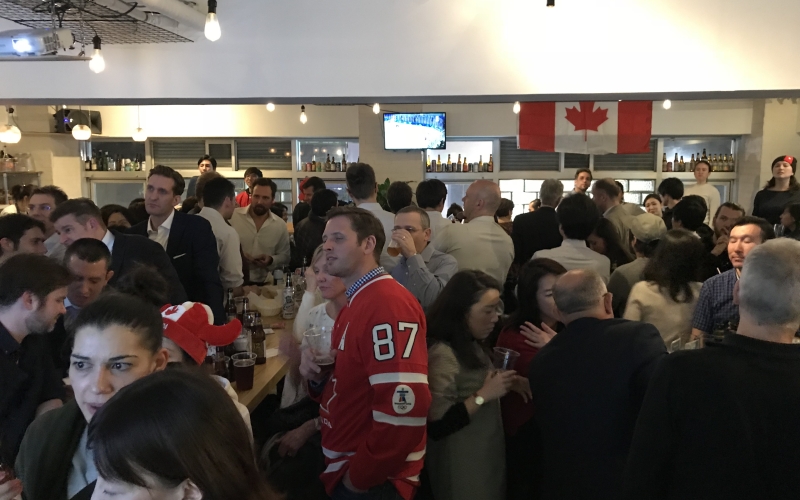 Event Report: CCCJ Housewarming and Canadian Hockey Night in Tokyo
On February 15, we hosted a double event - a Housewarming party for the new CCCJ office, and then a Canadian hockey night at the nearby Brew La La bar. Both events were open for everyone and attracted a good number of people. 
Our Housewarming party was an informal event celebrating the new Shimbashi office, where we moved in January. The event was officially sponsored by our office move sponsors: Maple Leaf Foods, Apex K.K., Mr. Ron Haigh (Toyota) and Mr. Robert Fuller (Currie and Brown). The party featured Canadian beer from AMMS Japan, which also supplies Brew La La. There were approximately 30-40 people attending our Housewarming.
The Canadian Hockey Night, held at Brew La La, was a spin on our traditional University alumni mixer events. While a number of alumni did attend, the event also attracted many people from the Housewarming party as well as other CCCJ members and non-members. It was a full house enjoying Canadian craft beers and cheering for the Canadian team in their first Pyeongchang game. The atmosphere was lively until the end. Fortunately, the night ended in a 5-1 win for Canada. 
The CCCJ sincerely hopes all attendees enjoyed these events.