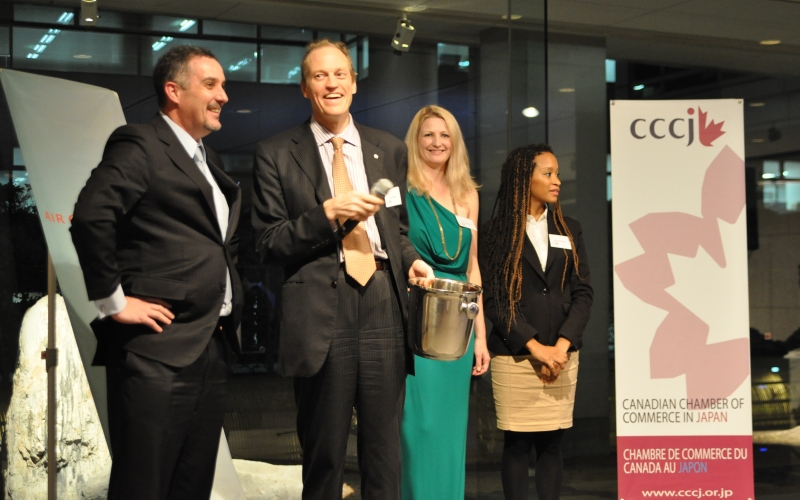 [Event Report] 2015年度・商工会議所合同忘年会 - Joint Chamber Bonenkai 2015
2015年度・商工会議所合同忘年会 - Joint Chamber Bonenkai 2015
On December 10th, 2015, the Canadian Chamber of Commerce in Japan hosted its 22nd annual end of year networking party, the Joint Chamber Bonenkai, at the Canadian Embassy in Aoyama Itchome. Tickets for the event sold out weeks prior to the registration deadline, providing for a festive crowd of 340 business people affiliated to domestic as well as international chambers of commerce in Japan. Guests this year were treated to one of the finest bonenkai parties on offer in Tokyo, complete with a grand standing buffet, free flow drinks, and prizes.
The CCCJ would like to thank all participating chambers – listed below; it certainly was a great evening of networking, and an enjoyable curtain call on a busy year.
Participating Chambers:
American Chamber of Commerce in Japan
British Chamber of Commerce in Japan
Chambre de Commerce et d'Industrie Française du Japon
Danish Chamber of Commerce Japan
Ireland Japan Chamber of Commerce
South African Chamber of Commerce in Japan
Swiss Chamber of Commerce and Industry in Japan
Tokyo Chamber of Commerce and Industry
Australian and New Zealand Chamber of Commerce in Japan
Canadian Chamber of Commerce in Japan
We would also like to thank Canadian Embassy staff for their hospitality, and GPlus Media for sponsoring the event. Through CareerEngine, GPlus Media works in partnership with 13 major foreign Chambers of Commerce in Japan representing more than 2,000 companies. For more information please click on the below CareerEngine logo.
CCCJ Governor Neil van Wouw led the 50-50 draw for evening. The winner of the Raffle was Mr. Andrew McLucas from Skillhouse Staffing Solutions, who graciously donated half of his winnings to the CCCJ's CSR Fund.
The CCCJ's CSR committee connects the Chamber, its members and the Tokyo business community with numerous partners in the Tohoku region. We realize rebuilding and normalization after the March 2011 disasters will take years but our goal is to offer a broad range of on-going support to businesses and communities with a modest budget. Therefore our support often involves connecting regional NPOs with corporate sponsors as well as support in such areas as web support, legal services as well as marketing and promotion.
***
Please take a minute and download our digital app, The Canadian and like us on our Youtube, LinkedIn, Facebook and Twitter accounts