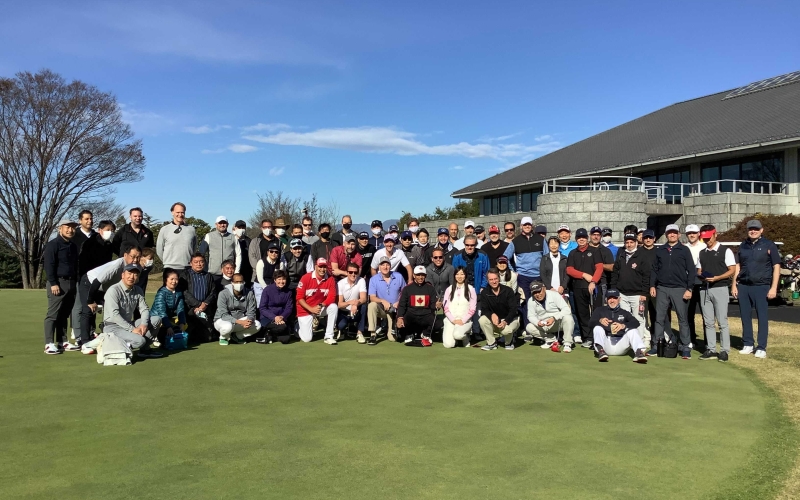 CCCJ Fall 2021 Golf Scramble
Canadian Ambassador to Japan, His Excellency Ian McKay along with 71 members and their business colleagues gathered at Tsutsujigaoka Country Club in Ashikaga-shi, Tochigi, on a beautiful, sunny November day, for the CCCJ Fall 2021 Golf Scramble.
Known as one of the most fun golf tournaments in Tokyo, and with an over 85% repeat rate, tickets were sold out within a week or so after registration details were announced. Thank you!
As always, the tournament was played in the 4-person team scramble format which promotes teamwork, strategy and most of all fun!
Our best foursome, scoring an amazing 7 under, 65, went to: Team Beaver (Karl Pires, Mark Jones, Shaun Sundberg, and Mukesh Hemrajani). Congratulations!
Our CCCJ golf committee, Warren Arbuckle, Rob Fuller, Tad Furuta, Joey Wu, Noriko Ishida, David Anderson, and Kieron Cashell  would like to give our special thanks to our many and incredibly generous sponsors (so many that we have added all their logos below for easy viewing)
and also to Tsutsujigaoka Country Club for 'Omote-nashi' hospitality beyond our expectations.
Most of all, we thank all the golfers who continue to make the CCCJ Golf Scramble so special!
See you in the Spring!!!