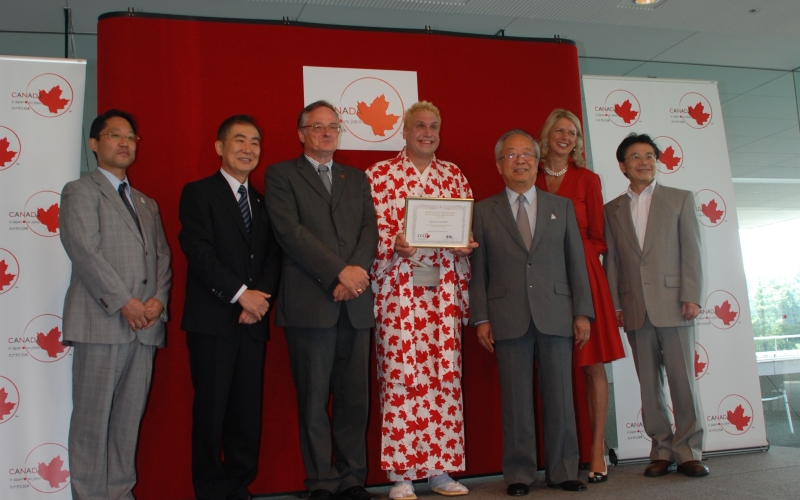 CCCJ Appoints Katsura Sunshine as Cultural Ambassador
The CCCJ appointed member and Rakugo comedic storyteller Katsura Sunshine as our Cultural Ambassador at an August 7 press conference at the Embassy of Canada, held to announce his upcoming 16-city North American tour.
Sunshine was joined by his master and Rakugo superstar Katsura Bunshi VI for the announcement in front of a large media contingent. The event featured messages from Japan's Ambassador to Canada Norihiro Okuda and Canada's Ambassador to Japan Mackenzie Clugston, as well as speeches by representatives of the Japanese Ministry of Foreign Affairs and the Japan Foundation, both proud sponsors of Sunshine's tour.
Katsura Bunshi VI himself regaled the audience with the tale of Sunshine's life in Rakugo style, while the CCCJ's own Chair of the Honorary Board of Advisors Ambassador Numata recapped his role in bringing all the parties together. Finally, Sunshine formally took up his role as CCCJ Cultural Ambassador as chamber Chair Wilf Wakely presented the Toronto native with an official certificate of appointment.
The successful event was made possible by the efforts of the Embassy Public Affairs Division led by Laurie Peters.
For the congratulatory letter from the CCCJ to Katsura Sunshine, please see the links below. 
*Note that the specific dates have changed in the past. Please check Sunshine's personal website for the most updated details under http://sunshineinenglish.wordpress.com/rakugo-shows/
Sunshine North American Tour: 
Thursday August 29
Seattle
Japanese Cultural and Community Centre of Washington http://www.hyogobcc.org
Friday August 30
Richmond
Steveston Buddhist Temple http://www.vancouver.ca.emb-japan.go.jp/en/culture.htm
Saturday August 31
Burnaby
Nikkei Place http://www.vancouver.ca.emb-japan.go.jp/en/culture.htm
Sunday September 1
Vancouver
Vancouver East Cultural Centre http://www.vancouver.ca.emb-japan.go.jp/en/culture.htm
Tuesday September 3
Calgary
Lunchbox Theatre http://www.calgary.ca.emb-japan.go.jp/culture/rakugo.html
Thursday September 5
Ottawa
Embassy of Japan http://www.ca.emb-japan.go.jp/2013_shared_images/Event%20Posters/Katsura_Sunshine.pdf
Friday September 5
Ottawa
Carleton University http://www.ca.emb-japan.go.jp/2013_shared_images/Event%20Posters/Katsura_Sunshine.pdf
Saturday September 7
Montreal
Jardin Botanique Montreal (Two Performances)
Tuesday September 10
Hamilton
McMaster University
(Masterclass for Students – private event)
Friday September 13
Houston
Rice University
Saturday September 14
Houston
Houston City Central Library (TBC)
Monday September 16
Atlanta
Kennesaw State University (Two Performances)
Tuesday September 17
Clarksville
Austin Peay State University
Wednesday September 18
Nashville
Belmont University
(Masterclass for Students)
Wednesday September 18
Nashville
Nashville Public Library
Wednesday September 18
Nashville
Belmont University Blackbird Theatre
Thursday September 19
Nashville
Vanderbilt University
(Masterclass for Students)
Friday September 20
Urbana
University of Illinois, Urbana Champaign
Sunday September 22
Halifax
Pier 21
Monday September 23
Halifax
St. Mary's University
Wednesday September 25
Boston
Massachusetts Institute of Technology
Thursday September 26
Washington DC
Embassy of Japan
Friday September 27
Fairfax
TBC
Monday September 30
New York
TBC
Saturday October 5
Toronto
Winter Garden Theatre