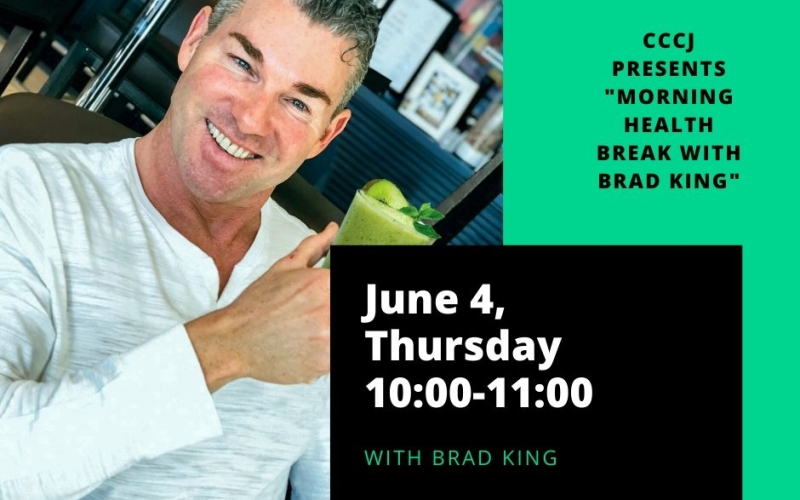 *Zoom Event * CCCJ presents "Morning Health Break with Brad King"
Learn with us to stay fit and healthy!
We have a special guest speaker from Canada, Brad King - A highly sought after authority on nutrition, obesity, longevity and one's health and he has been touted as one of the most influential health mentors of our time. And, he happens to be Canadian, operating his business in Canada.
In this event he will be talking about anti-aging practices, metabolism and how to stay healthy.
This event will be hosted using a Zoom conference room. Once you register for the event, we will send you the login details.
If you have any questions or concerns about using the platform, please get in touch and we can work it out together.
About the Speaker
Brad King, MS, MFS
Brad is an award winning nutritional formulator and was honoured with the Best in Canada Award for Health Motivator/Educator and Public Speaker in 2010, was inducted into the Canadian Sports Nutrition Hall of Fame in 2003, and sits on the board of Directors for CHI, the premiere sports nutrition education center.
Brad is the author of 12 books including the international best seller,Fat Wars: 45 Days to Transform Your Body, the award winning Beer Belly Blues: What Every Aging Man and the Women in His Life Need to Know and his newly released The Ultimate Male Solution.
Brad is a leading health expert having appeared on NBC, ABC, and CBS, some of these interviews include: The Today Show, Canada AM, Balance TV, Macleans, Oxygen, The National Post, Chatelaine and Live with Marcus and Lisa. 
After selling his personal supplement line (Brad King's Ultimate) to one of the largest supplement manufacturers in the world, he set out on a mission to change the industry once-and-for-all by creating supplements that offer real-food-fuel to everyone. He is currently putting his knowledge, experience, and passion into Samuraw and LeafSource for people and MyUltimatePet& for those precious fur-companions.
(Adapted from Total Health Magazine.)
Event Details
June 04 (Thu)


Registration Closed
10:00 ~ 11:00
Free
Registration is Closed