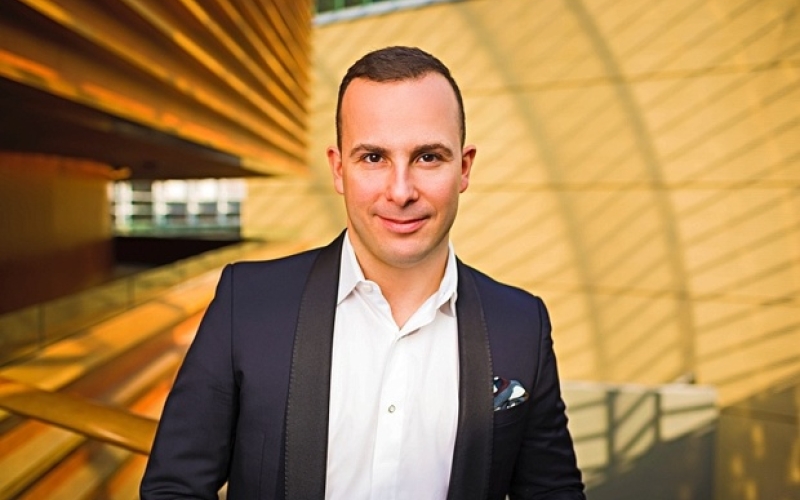 Yannick Nézet-Séguin conducting the Philadelphia Orchestra
Montreal-born conductor Yannick Nézet-Séguin is bringing the Philadelphia Orchestra to Japan for the first time in two years. This young conductor who has gained maximum attention on the world stage has guest conducted the Vienna Philharmonic, the Berlin Philharmonic, the Boston Symphony and other orchestras, and since 2008 has served as Music Director for the Rotterdam Philharmonic.
He was named Music Director of the Philadelphia Orchestra in 2012. These concerts will feature richly varied programs and, once again, performances with violin soloist Ryu Goto. The gorgeous sound of this legendary orchestra is sure to be on full display.
Concert Schedule: 
Tuesday, May 31: Tokyo Bunka Kaikan
Thursday, June 2: Festival Hall (Osaka)
Friday, June 3: Suntory Hall (Tokyo)
Saturday, June 4: Muza Kawasaki Symphony Hall
Sunday, June 5: Suntory Hall (Tokyo)
For more information and to purchase tickets, please visit the following website: http://www.kajimotomusic.com/en/artists/k=210/ 
About the Philadelphia Orchestra:
Renowned for its distinctive sound, desired for its keen ability to capture the hearts and imaginations of audiences, and admired for an unrivaled legacy of "firsts" in music-making, The Philadelphia Orchestra remains one of the preeminent orchestras in the world. While wholly committed to the exploration of classical music and repertoire, the Orchestra also continues to develop compelling programs that resonate with contemporary audiences. The Philadelphia Orchestra is focused on inspiring the future while transforming its rich tradition of achievement, and seeks to not simply sustain the highest level of artistic quality, but to challenge—and exceed—that level by creating powerful musical experiences for audiences at home and around the world.
Yannick Nézet-Séguin joins this small yet illustrious group in the 2012-13 season, serving as the eighth music director of The Philadelphia Orchestra. An integral member of the Orchestra's leadership team since 2010 when he assumed the title of music director designate, Nézet-Séguin also serves as music director of the Rotterdam Philharmonic, principal guest conductor of the London Philharmonic, and artistic director and principal conductor of Montreal's Orchestre Métropolitain. He brings a wealth of talent and vision that extends beyond symphonic music and into the vivid world of opera and choral music. Nézet-Séguin possesses a distinctive gift for reaching audiences, and arrives well-prepared to share his unmatched versatility and depth with Philadelphia and the world.
The Philadelphia Orchestra also has an important tradition of presenting educational programs for local audiences—a tradition dating back to 1921 when Leopold Stokowski initiated concerts exclusively for children. Today the Orchestra reaches Philadelphia-area families, teachers, students, and children through a multitude of education and community partnership programs. From Sound All Around (designed for children ages 3-5) to Family Concerts (aimed at children ages 6-12 and their families) to eZseatU (a membership program for full-time college students), The Philadelphia Orchestra seeks to introduce orchestral music to a new generation of listeners through these special programs. Further, the Orchestra aims to engage adult audiences more deeply in its performances through learning programs, including free PreConcert Conversations, which occur before every subscription concert, and Lecture/Luncheons with guest speakers. Philadelphia Orchestra musicians serve a key role in growing young musician talent and love of classical music in their own dedicated roles as teachers, coaches, and mentors.
Through concerts, tours, residencies, presentations, and recordings, The Philadelphia Orchestra touches the lives of countless music lovers around the globe. Outside of Philadelphia, the Orchestra enjoys a three-week summer residency at the Saratoga Performing Arts Center in New York—a venue that was built for the Orchestra—as well as a strong partnership with the Bravo! Vail Valley Music Festival.
The Philadelphia Orchestra also has a long history of touring, having first performed outside of Philadelphia in the earliest days of its founding. The Philadelphia Orchestra was the first American orchestra to perform in the People's Republic of China in 1973. In 2012 the Orchestra reconnected with its historical roots in China and more deeply embraced its role as a cultural ambassador by launching a new partnership with the National Centre for the Performing Arts (NCPA) in Beijing, a pilot residency that united the Orchestra with talented young Chinese musicians and composers to further develop their orchestral skills. The residency also served to bring orchestral music, through performances and master classes, not only to China's major cities but also further into the provinces, and to connect through the hearts of local musicians to their supporting communities, through the sharing of musical talents between its own musicians and Chinese musicians, engaging in music education, and spreading the joy of classical music with citizens in residential neighborhoods and at unique historic sites.
The Philadelphia Orchestra has long pushed the boundaries of convention in the classical music realm. Signature to such a reputation are world and/or American premieres of such important works as Mahler's Symphony No. 8 ("Symphony of a Thousand"), Stravinsky's The Rite of Spring, Schoenberg's Gurrelieder, and Rachmaninoff's Symphonic Dances. As part of its commitment to bringing classical music to audiences where they are listening, the Orchestra was the first to create an online store for purchasing music. To further expand such distribution, the Orchestra formed a new partnership with Independent Online Distribution Alliance (IODA), making its live recordings available on popular digital music services such as iTunes and Amazon, among others. The Orchestra has also joined with Specticast in pioneering simulcasts of Orchestra concerts into theaters, schools, and performing arts centers.
1900年に創設されたフィラデルフィア管弦楽団は、一世紀以上にわたり優れた演奏、歴史的な海外ツアー、ベストセラー録音、そして録音技術やアウトリーチ活動における前例のない革新的活躍で、世界有数のオーケストラの地位を確立している。その歴史の中で迎えた音楽監督はわずか8名で、一貫した芸術的方針を維持してきた。この8名とは、シール(1900-1907在任)、ポーリヒ(1907-1912)、ストコフスキー(1912-1941)、オーマンディ(1936-1980)、ムーティ(1980-1992)、サヴァリッシュ(1993-2003)、エッシェンバッハ(2003-2008)、デュトワ(2008-)、そして世界で最も注目を集める若手指揮者、ネゼ=セガン(2012-)である。
フィラデルフィア管はその歴史を通して、前例を見ないほど多数の世界初演、アメリカ初演を手掛けてきた。それらの作品には、バーバーのヴァイオリン協奏曲、マーラーの交響曲第8番「千人の交響曲」、ラフマニノフの交響的舞曲、シェーンベルク「グレの歌」、ストラヴィンスキー「春の祭典」などがある。
また輝かしいツアーの歴史も、多くの画期的出来事に彩られている。1936年にはアメリカのオーケストラとして初めてヨーロッパ大陸横断ツアーを行い、1949年にはイギリス・ツアーを行い、第二次世界大戦後に大西洋を渡った最初のアメリカのオーケストラとなった。さらに1973年、アメリカのオーケストラとして初めて中華人民共和国で演奏し、1999年にはやはりアメリカのオーケストラとして初めてベトナムを訪れた。
このほかにもフィラデルフィア管弦楽団には数々の「最初」の記録がある。電気的録音(1925年)、商業スポンサーをつけた専属ラジオ番組への出演(NBC放送、1929年)、映画サウンドトラックの演奏(パラマウント映画「The Big Broadcast of 1937」)、インターネットでコンサートのライブ・サイバー放送(1997年)などである。
フィラデルフィア管弦楽団は、年間300回以上のコンサートや、出版、録音、放送などを通して、毎年世界各地の100万人を超える音楽愛好家に演奏を届けている。例年9月から5月までの冬の定期公演シーズンはフィラデルフィアで演奏し、教育プログラムやコミュニティの共催プログラムがこれに加わる。またカーネギーホールで毎年コンサート・シリーズを開催するほか、ワシントンDCのジョン・F・ケネディー・センター・フォー・パフォーミング・アーツにも定期的に登場している。
定期公演はキンメル・センター・フォー・パフォーミング・アーツ(KCPA)で開催されている。同センターには2つの公演スペースがあり、その一つはフィラデルフィア管のために設計・建築された2500席のヴェリゾン・ホール、もう一つは室内楽コンサート用の650席のペレルマン・シアターである。建築家ラファエル・ヴィニョリがアーテック・コンサルタント社の音響技師ラッセル・ジョンソンの協力を得て設計したキンメル・センターは、コンサート、録音、教育活動のための最新鋭設備が整っている。
Event Details
May 31 (Tue)

to

June 05 (Sun)


Registration Closed
02:00 ~ 13:00
Venues across Japan
The Philadelphia Orchestra will be playing at different venues across Japan. Please consult the following link for more information: http://www.kajimotomusic.com/en/artists/k=210/
Please visit the above website for more details.
Registration is Closed