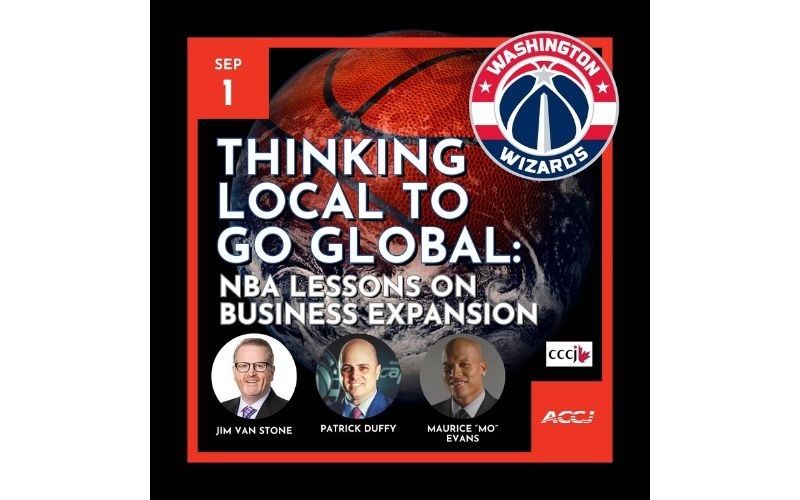 Thinking Local to Go Global: NBA Lessons on Business Expansion
Discover practical insights at an event for business leaders passionate about sports and seeking tangible value in their brand strategies. The ACCJ Sports & Entertainment Business Committee and CCCJ are proud to present an engaging fireside chat with Jim Van Stone and Patrick Duffy, leaders of Washington, DC-based Monumental Sports & Entertainment.
To register for this event, please visit https://accj-0901.peatix.com/
EVENT OVERVIEW
During this event, Van Stone and Duffy will share how the synergy of local wisdom and global aspirations that drives Monumental's international success. They'll be joined by former National Basketball Players Association Executive Vice President Maurice "Mo" Evans.
Dive into an insightful conversation that bridges sports and brand strategies to learn about:
Global branding tactics: Gain actionable takeaways from the NBA and Monumental's branding prowess, designed to resonate globally.
Operational strategies: Uncover how the NBA's works and connect the dots between global impact and business success.
Strategic partnerships: Discover how Monumental partners with brands, crossing borders for mutual growth and meaningful outcomes.
Community impact: Dive into the partnership between the Wizards and Tamagawa University to revive basketball spirit in Machida.
Secure your spot now and prepare for an evening packed with actionable insights and real-world examples, showcasing the power of sports in driving global business success.
There will also be a drawing for official Wizards goods!
About the Speaker
Jim Van Stone
President of business operations and chief commercial officer of Monumental Sports & Entertainment, Jim Van Stone oversees ticket sales and services, corporate partnerships, executive suites, marketing, and retail business. He was previously the company's chief revenue officer.
Van Stone has played a leading role in a myriad of groundbreaking sponsorship agreements at Monumental. This includes naming rights for Capital One Arena; naming rights and a medical partnership with MedStar Health for the Washington Wizards, Capitals, and Mystics practice facility; a technology platform with Alibaba; jersey patches for the Wizards (GEICO) and Capitals (Caesars Sportsbook); and the Wizards' first international partnership (with NEC), which saw the team visit Tokyo in 2022—their first appearance abroad.
Under Van Stone's guidance, Capital One Arena underwent a transformational $70 million renovation during the summers of 2018 and 2019, which included installation of one of the largest 360-degree continuous video screens in sports as well as modernized concourses, suites, and destination lounges throughout the building.
Patrick Duffy
Senior vice president of global partnerships at Monumental Sports & Entertainment, Patrick Duffy has more than 20 years of experience in corporate sales and marketing partnerships. Prior to joining Monumental, Duffy was with the Tampa Bay Lightning from January 2002 to December 2012, where he served as the senior vice president of corporate sales and marketing partnerships. From January to December 2001, he was with the Adecco Group as a corporate account manager, and from April 1999 to January 2001was a corporate account manager for the New York Islanders.
Duffy holds a master of business administration in the field of multinational business and a bachelor of business administration in business management and marketing from Florida State University.
Maurice "Mo" Evans
Former vice president of the National Basketball Players Association (NBPA), founder of ELOS Sports, and an 11-year NBA and European Basketball veteran, Maurice "Mo" Evans is a member of the Kansas High School Hall of Fame.
As a player at Wichita State University, Evans finished in the top 10 in the NCAA in scoring as a sophomore. He then transferred to the University of Texas, where he was named to the Big 12 All-Newcomer Team while also leading his team in scoring, steals, and three-point percentage as the Longhorns reached a record 25 wins and a berth in the 2001 NCAA tournament. After university, Evans had a productive 11-year career with the Minnesota Timberwolves, Detroit Pistons, Atlanta Hawks, and Los Angeles Lakers, where he played alongside Kobe Bryant. He served four years as executive vice president of the NBPA and was a key member of the team that successfully negotiated the 2010–11 NBA labor dispute. He also helped create programs such as the NBA Business of Basketball Leadership and Development Program, the Mentorship Program, and the NBPA Top 100 Coaching Program.
NOTES
NOTE 1: This event is OFF THE RECORD.
NOTE 2: To ensure the safety of our members, guests, and staff, we ask that you review the registration guidelines and safety measures and complete the consent form before registering.
NOTE 3: If you cancel after the stated deadline, the full meeting fee will be charged to your account. All guests must be accompanied by a member of the ACCJ. No substitutions or walk-ins permitted.
REGISTRATION
Date: Friday, September 1, 2023
Time: 19:00–21:00
Venue: The Tokyo Toranomon EDITION
Member Fee: ¥8,400
Guest Fee: ¥11,800
Registration/Cancellation Deadline: Wednesday, August 30 (17:00)
Meal: Canapés and all-you-can-drink beverages
Date: Friday, September 1, 2023
Time: 19:00–21:00
Venue: The Tokyo Toranomon EDITION
CCCJ Member Fee: ¥8,400
Guest Fee: ¥11,800
Registration/Cancellation Deadline: Wednesday, August 30 (17:00)
Meal: Canapés and all-you-can-drink beverages
To register for this event, please visit https://accj-0901.peatix.com/
 
Event Details
September 01 (Fri)


Registration Closed
19:00 ~ 21:00
CCCJ Member Fee: ¥8,400, Guest Fee: ¥11,800
Registration is Closed