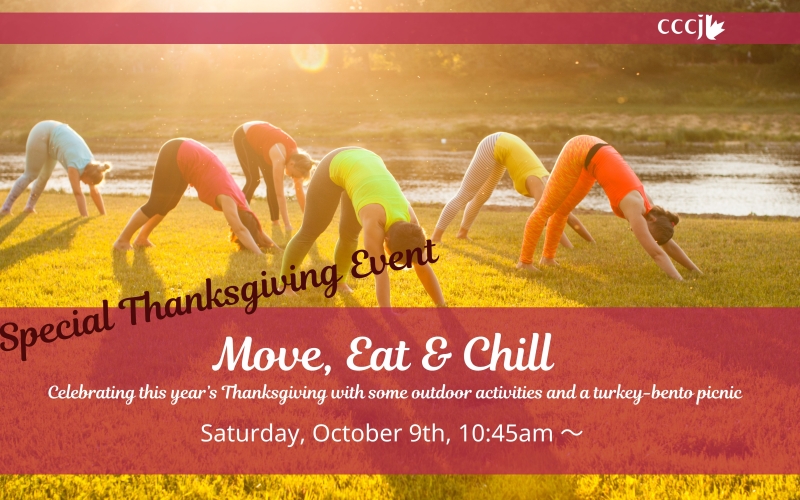 Special Thanksgiving event : move, eat & chill 🇨🇦
Why not celebrate this year's Thanksgiving with some outdoor activities and a turkey-bento picnic?
CCCJ's Wellness and Event Committees invite you to come join us for a late Saturday morning of yoga or run (or walk) in the park followed by a lunch picnic that will feature everyone's beloved Thanksgiving Turkey and a few healthy dishes. 
With certain Covid restrictions that are expected to continue, this event will be limited to a maximum of 20 people. First come, first served. Sign up now!
Participants will be required to BYOD, Bring Your Own Drinks.
Date : Saturday, October 9
Time: 10:45 meet up, 11:00 ice breaker, 11:15 yoga/run/walk, 12:15 lunch
Place: Central Tokyo near Tokyo Tower
Price: ¥3,000 for member, ¥4,000 for non-member, price includes the special thanksgiving turkey bento
Participants will receive an email from the CCCJ office on meet up details, what to bring and other information. 
Yoga will be led by Joey, yoga instructor and chair of the Wellness Committee and Run will be led by Marc Bolduc, a Governor.
Any questions, feel free to contact at info [at] cccj.or.jp
Event Details
Saturday, Oct. 9th
Registration Closed
10:45
Central Tokyo near Tokyo Tower
¥3,000 for Members / ¥4,000 for Non-Members, price includes the turkey bento
Registration is Closed