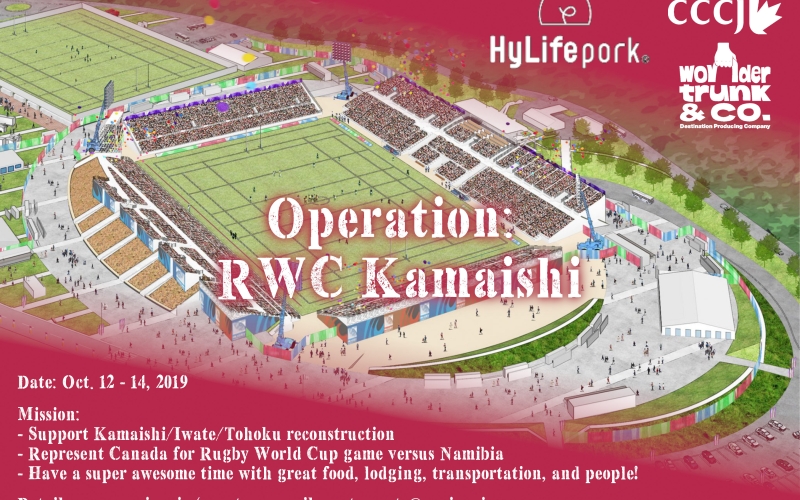 Rugby World Cup Weekend Getaway in Kamaishi!
Let's Go to Kamaishi!
Kamaishi is one of countless towns that were utterly devastated by the 2011 tsunami, and the stadium that the game will be held in was built to commemorate the lives lost during the disaster. Kamaishi, the city of "Steel, Fish, and Rugby" spent billions of yen and years of construction to build the best purpose-built rugby stadium in Japan, and this is a once in a lifetime chance to see the Canadian Rugby team vie for the Webb Ellis Cup against Namibia!
We encourage all Canadians to join us on the weekend of October 12 through 14 to come celebrate with the people of Kamaishi through the spectacle of sport, and create meaningful, sustainable links with this hidden gem of Japan!
Itinerary (exact times are subject to minor changes)
Dates: Saturday, October 12th, 2019 - Monday, October 14th, 2019
Locations: Kamaishi
Participants: 14 people, CCCJ members. Some have tickets for the game, some don't.
Schedule
Saturday, October 12th
1028: Leave from Tokyo Station for Shin-Hanamaki Station via Shinkansen 
1329: Arrive at Shin-Hanamaki Station
1449: Board Tono bus bound for Wundertrunk tents
1317: Arrive at Wundertrunk tents
1710: Finish tour, walk back to Wundertrunk tents
1745: Arrive at Wundertrunk tents
1800: Dinner!
Sunday, October 13th
Monday, October 14th
0900: Arrive at Unosumai Stadium, run on the pitch 
1000: Blue Compass barbecue at Minshuku Maekawa
10:00~13:00 Free rugby clinic, free English lessons and BBQ for Kids
1230: Leave barbecue, depart for Shin-Hanamaki Station via Tono bus
1400: Arrive at Shin-Hanamaki Station via Tono bus
1419: Depart Shin-Hanamaki Station for Tokyo via Tohoku-Hokkaido Shinkansen
1724: Arrive at Tokyo
Event Details
October 12 (Sat)

to

October 14 (Mon)


Registration Closed
08:00 ~ 05:00
Unosumai Stadium
岩手県釜石市鵜住居町第18地割5−1
65000
Registration is Closed