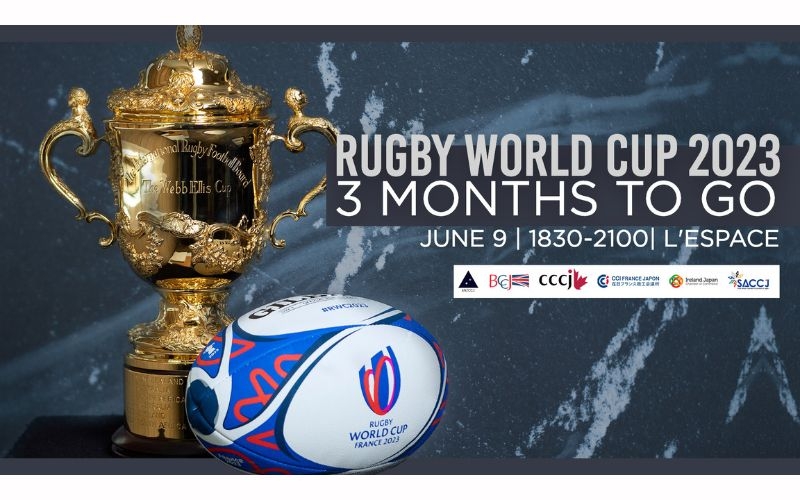 Rugby World Cup 2023 – Three Months to Go
The CCCJ is pleased to be teaming up with the French Chamber of Commerce and Industries in Japan (CCIFJ), the Australia New Zealand Chamber of Commerce in Japan (ANZCCJ), the British Chamber of Commerce in Japan (BCCJ) and the Irish Chamber of Commerce in Japan (IJCC) on a special event to commemorate the 3 month countdown to the Rugby World Cup 2023.
At this event, we will welcome Takashi Kikutani, former Japanese rugby union player (No. 8 / Flanker) and Takuji Kimura, TV director and journalist who specialises in rugby, to hear about their personal experiences in the field and views on the upcoming world cup.
Schedule:
6:30pm – Reception & Opening
7:00pm – Presentation
8:00pm – Networking
9:00pm – Closing
Please note that the presentations will take place in Japanese.
Address:
Nihonbashi Honcho YS Building
2-2-2 Nihonbashi Honcho 2F
Chuo-ku, Tokyo 103-0023
Meal:
Please indicate any specific dietary requirements at the time of booking.
Cancellation policy:
For reservations after Friday, June 2 at 15:00, there will be no refunds on cancellations.
No-shows will be charged, and we can not accept cash at the door.
Event Details
June 09 (Fri)


Registration Closed
18:30 ~ 21:00
Members -- ¥4,000, Non-Members -- ¥8,000
Registration is Closed