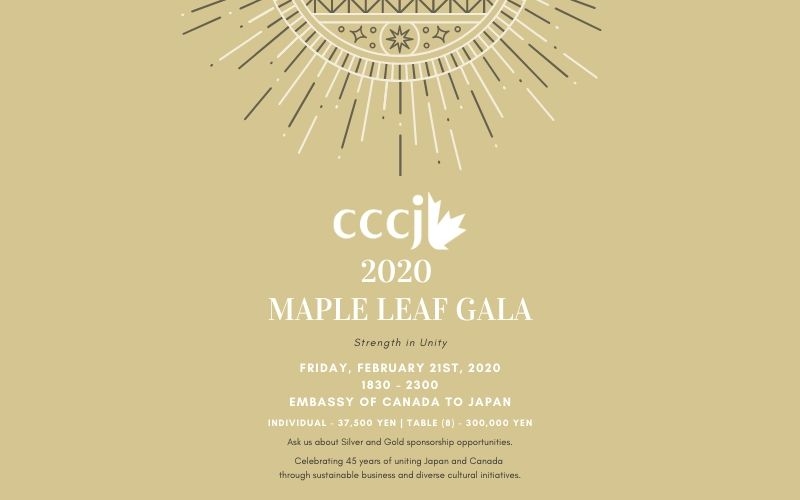 Maple Leaf Gala 2020: Strength in Unity
Catch the Spirit of '20!
2020 is going to be a very special year for Japan, and in that spirit the CCCJ is delighted to announce that we have put together an equally special Maple Leaf Gala for a classy evening of Canadian-style fun!
On Friday, February 21st 2020, from 1830 to 2300, we invite you to join us at the Embassy of Canada to Japan together with other key stakeholders of the Japan-Canada relationship for a fun-filled, one-of-a-kind, historic evening event. What is it that makes this Gala one-of-a-kind and historic? Well, to start with... it's going to be held at the Embassy of Canada in Japan this year. For, the rest... that'll be a surprise. Suffice it to say, the Gala Committee is doing everything we can to make this the most fun Maple Leaf Gala ever!
A Special Thanks to our Platinum Sponsors!
An Intimate Affair
This will be an intimate affair, with a capacity of only 15 tables of 8 people each for a total of 120 people (by comparison we had 260 people at our 2017 Maple Leaf Gala). Tables and individual tickets are available on a first-come-first-serve basis.
As there is very limited seating, we encourage you to act quickly and notify us of your interest in attending this event at your soonest possible convenience.
There are opportunities for Bronze, Silver, Gold and Platinum sponsorship with the purchase of a table. Please let us know if you are interested in purchasing a standard Bronze Sponsorship table (300,000 Yen) or a table with Silver (400,000 Yen), Gold (500,000 Yen) or Platinum (1,000,000 Yen) level sponsorship. We will also consider in-kind contributions for sponsorship portion, and are looking for prizes for our charity silent auction. Please contact the CCCJ office with queries related to sponsorship and auction prizes.
A Beacon of HOPE
The silent auction will be run by HOPE international Development Agency Japan, as in previous years.
Please see below for ticket options, and we're very much looking forward to spending a wonderful evening together with you!
Event Details
February 21 (Fri)


Registration Closed
18:30 ~ 23:00
Embassy of Canada to Japan
7 Chome-3-38 Akasaka, Minato City, Tokyo 107-0052
¥37,500 (Individual) / ¥300,000 (Table)
Registration is Closed