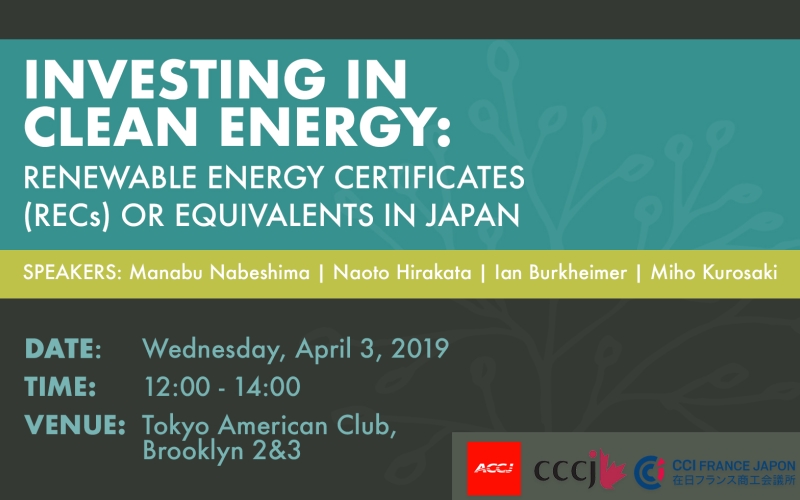 Investing in Clean Energy: Renewable Energy Certificates (RECs) or Equivalents in Japan
We are happy to co-host ACCJ for their speaker series with CCIFJ!
Event Overview:
Is it possible to procure globally-recognized Renewable Energy Certificates (RECs) or their equivalents in Japan?
 
With 15 Japanese corporations already committed as members of the Renewable Electricity 100 (RE100) and the corporate sector taking a leading role in global climate reduction efforts, the Japanese government has set a target for having 50 Japanese corporate members of the RE100 by 2020. Many RE100 member companies meet their RE goals through the acquisition of Renewable Energy Certificates (REC) in global markets across the Americas, Europe and Asia. In Japan, however, the current domestic certificate system is complex, expensive and, in some cases, does not yet meet international standards.
 
In this event, the Energy Committee and Alternative Investment Committee have brought together a renowned panel that will introduce global REC schemes, examine how global companies reduce their emissions using RECs available in international markets, and introduce the variety of Japanese systems in place or in development. Panelists include: 
 
Join us to learn more efforts underway to standardize Japanese and global RE certification.
Event Details
April 03 (Wed)


Registration Closed
12:00 ~ 14:00

Tokyo American Club, Brooklyn 2&3
¥4900 for members ¥ 8300 for non members
Registration is Closed