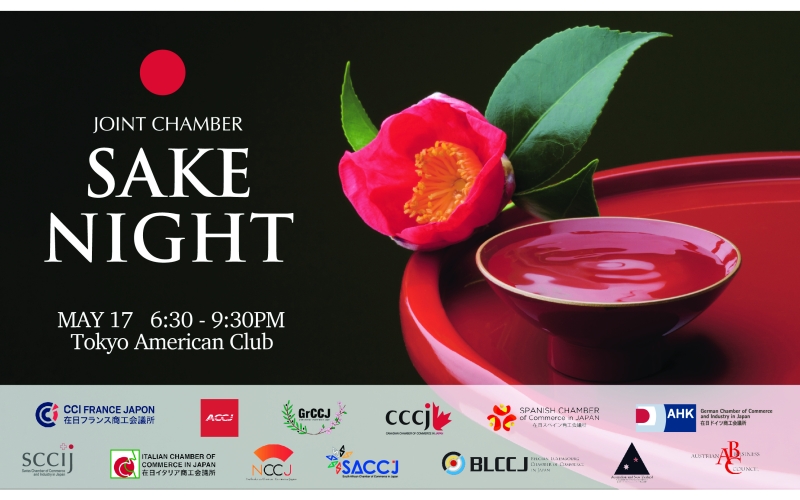 CCCJ Joint Chamber Sake Night 合同商工会議所日本酒ナイト
Japanese sake or, nihonshu, is globally recognized as an essential part of Japanese cuisine, but few know what a wide variety of flavors and styles there are. Several larger brands enjoy international success while many smaller brewers, with equal passion and skill, are eager to introduce their product to a broader audience. The Kikizakekai Tasting Evening is the ideal opportunity to discover some of the smaller craft breweries and their products, jizake, as well as enjoy some the most recognizable brands. It is also a perfect opportunity to learn how the characteristics (terroir) of  each region imbues each sake with a unique flavor and texture.
Come join a fantastic Japanese-themed event with an interesting network of people from all over the world. There will be door prizes including sake-related products. After a success launch of this event in September 2016, over 20 sake breweries will take part. Deadline for registeration is May 10. 
EVENT DETAILS:
Location: Tokyo American Club, New York Ballroom
Date: Wednesday, May 17, 2017
Time: 18:30 – 21:30
Dress: Business Casual (Cool Biz)
Price for participating Chamber Members: 8,500 yen
Price for non-members: 9,500 yen
*note: price includes buffet style food.
5月17日、東京アメリカンクラブへ美味しい日本酒を飲みに来ませんか?
日本酒は、今や世界中の方に愛されています。
大きな蔵元が、世界的な成功を収めている中で、小さな蔵元は、技術や情熱がありながら、多くの方には知られておらず、これから多くの方に知ってもらいたいと思っているのではないでしょうか。
試飲会では、多くの地酒を発見できるとともに、多種にわたる日本酒を飲み比べ出来ます。
ぜひ、今回の試飲会に参加いただき、世界中から集まる酒好きな方々と交流してみませんか。
参加者には、抽選会もお楽しみいただけます。
Event Details
May 17, 2017
Registration Closed
18:30-21:30
Tokyo American Club
2 Chome-1-2 Azabudai, Minato-ku, Tokyo 106-0041
Members: JPY 8,500; Non-Members: JPY 9,500
Registration is Closed