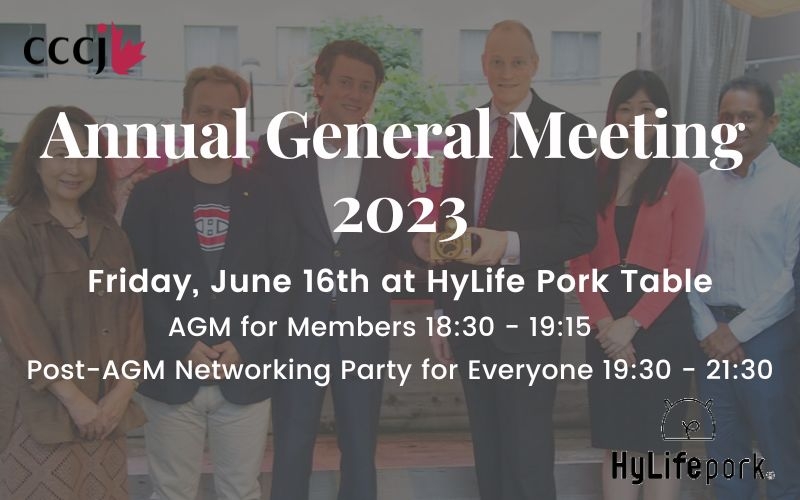 Annual General Meeting 2023
The time has come for the 2023 Canadian Chamber of Commerce in Japan's Annual General Meeting (AGM).
The AGM is open to CCCJ members only.
All CCCJ Members and Advisors are encouraged to attend.
Date: Friday, June 16th, 2023
Time: 18:30pm - 19:15pm AGM
          19:30pm - 21:30pm Networking Party
Venue: Hylife Pork Table in Daikanyama
Tickets: 
AGM: Free
AGM and Networking Party for Members (Early bird): ¥6,000
Networking Party for Non-Members (Early bird): ¥7,500
*Early bird is valid until Tuesday, May 16th.
After Wednesday, May 17th, 
AGM: Free
AGM and Networking Party for Members: ¥6,500
Networking Party for Non-Members: ¥8,000
Event Details
June 16 (Fri)


Registration Closed
18:30 ~ 21:30
AGM -- Free of Charge | Post AGM Gatherings -- Members (before May 17) ¥6,000, Non-Members (before May 17) ¥7,500, Members (after May 17) ¥6,500, Non-Members (after May 17) ¥8,000
Registration is Closed