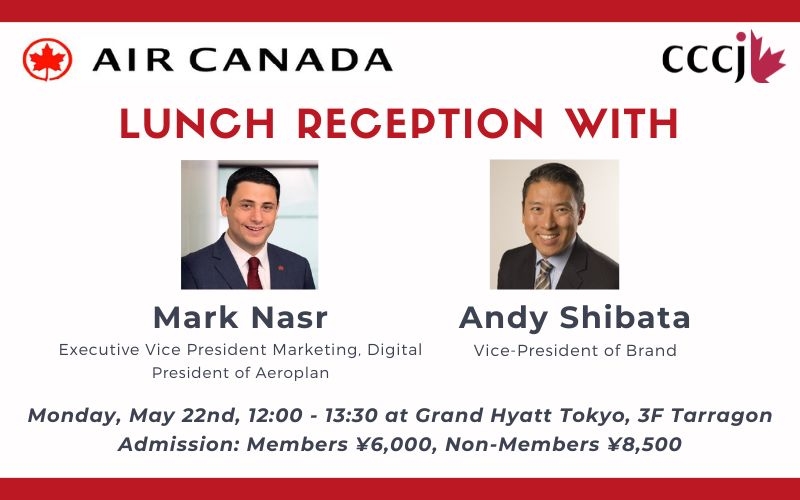 Air Canada - CCCJ Lunch Reception
Please join us to hear from Mark Nasr, Executive Vice President, Marketing, Digital and President of Aeroplan, and Andy Shibata, Vice President Brand, where they'll share their Marketing Strategy over the Grand Hyatt Tokyo's fine food.
Don't miss the opportunity to learn the latest information from Air Canada, our Sustaining member!
Date: Monday, May 22nd
Time: 12:00pm - 13:30pm (Doors open at 11:45am)
Venue: Grand Hyatt Tokyo - 3F Tarragon (Map)
Admission: ¥6,000 for Members, ¥8,500 for Non-members 
Dress Code: Business or Business Casual
[Program]
11:45 Doors Open
12:00 Lunch served
12:30 Presentation, followed by Q&A session
13:20 Adjournment
If you have any dietary requests, kindly advise us by putting comments in the Comment/Enquiry box.
Speakers
Mark Nasr | Air Canada, Executive Vice President Marketing and Digital, and President of Aeroplan

Mark Nasr is Air Canada's Executive Vice President, Marketing and Digital, and the President of Aeroplan. In this role, Mark is responsible for the overall Air Canada customer value proposition, including brand, marketing communications, commercial sponsorships, and the design and development of products and services for all Air Canada, Air Canada Rouge, and Air Canada Express flights worldwide. His team also includes Air Canada's global technology, digital and data professionals, managing the 24/7-operations of its digital channels and a cloud-first stack of over 400 applications supporting every facet of its operations.
As President of Aeroplan, Mark has responsibility for the Aeroplan loyalty group, including development, partnership management, operations, and financial performance. Mark joined Air Canada's executive team in January 2017.
(The full profile of Mr Mark Nasr can be found below in a PDF document.)
Andy Shibata | Air Canada, Vice-President of Brand

Andy Shibata joined Air Canada in 2016 as Managing Director of Brand to drive the company's global brand strategy. In 2020, he was appointed Vice President of Brand and today he leads Air Canada's storytelling, marketing and brand creative functions including livery and uniform branding, as well as product and promotional advertising for both Air Canada and Aeroplan, Canada's premier travel loyalty program.
With a distinct creative approach to problem-solving, Andy architects brand building strategies and has led award-winning teams focused on fortifying reputation and driving business results.
(The full profile of Mr Andy Shibata can be found below in a PDF document.)
Event Details
May 22 (Mon)


Registration Closed
12:00 ~ 13:30
Members -- ¥6,000, Non-Members -- ¥8,500
Registration is Closed