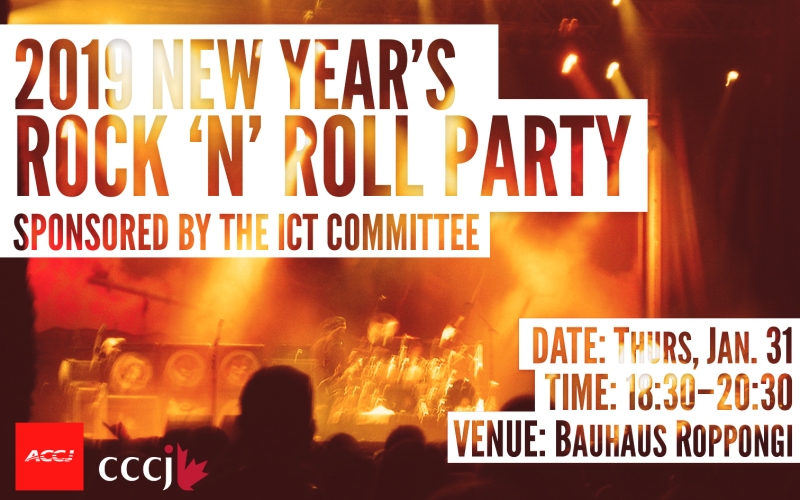 2019 New Year's Rock 'n' Roll Party, sponsored by the ICT Committee
CCCJ is co-hosting ACCJ's ''The 2019 New Year's Rock 'n' Roll Party, sponsored by the ICT Committee''
This joint event at the new home of Bauhaus Roppongi in the Imperial Building.
This is an excellent opportunity to meet new people and catch up with old friends. Enjoy a buffet dinner and two beverages for the great member price of ¥5,000!
Date: Thursday, January 31
Time: 18:30–20:30
Venue: Bauhaus Roppongi
Members: ¥5,000  
Non-members: ¥8,400 
Meal: Buffet and two beverages
Registration/Cancellation Deadline: Thursday, January 24, 12:00 Noon
*Plese note that photos taken at the event may be used for our website and future marketing purposes.
Event Details
January 31 (Thu)


Registration Closed
18:30 ~ 20:30
Bauhaus Roppongi
BAUHAUS 〒106-0032 東京都港区六本木5-16-5 インペリアルビル1号館B1 六本木駅A3出口より徒歩5分
5000 yen for Members, 8400 yen for Non-Members
Registration is Closed