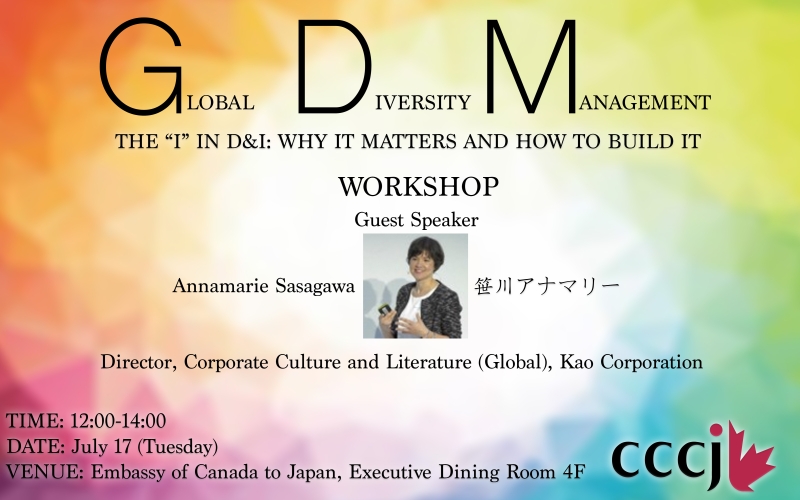 The "I" in D&I: Why it matters and how to build it
We are continuing our series of Global Diversity Management workshop on July 17th.
We are thrilled to welcome Annamarie Sasagawa, Director, Corporate Culture and Literature (Global), Kao Corporation.
The "I" in D&I: Why it matters and how to build it
Diversity without inclusion is pointless. That's where there's the "I" in D&I. But how do you develop and maintain a culture of inclusion in an organization, especially one with members from diverse backgrounds and perspectives? This presentation and workshop will not give you all the answers, but it will present best practices from the science of organizational development as well as on-the-ground insights from my work in global corporate culture-building at a Japanese company. After a brief presentation, we will move into workshop mode and try some hands-on techniques to learn how to build a team culture of inclusion.
The session will be conducted using a mix of Japanese and English.
Speaker Profile:

Annamarie Sasagawa
Director, Corporate Culture and Literature (Global), Kao Corporation
An anthropologist by training, Annamarie Sasagawa works in the Corporate Culture and Literature Department at Kao Corporation, which is a major Japanese consumer goods company with global brands such as Bioré, John Frieda, and Jergens. She is responsible for communicating Kao's corporate philosophy to overseas stakeholders, including employees and newly acquired companies. She also works with the human capital development team to support Kao's global business expansion by cultivating values-based leadership and respect for diversity across the organization. In her doctoral research at the University of Tokyo, she studied the factors that impact women's economic inclusion in Japan, conducting ethnographic research with young women in Tokyo hoping to build global careers. She grew up in Canada.
Lunch and tea will be provided to all attendees. If you have any special dietary requirements, please contact marie.ohashi [at] cccj.or.jp.
Event details:
Venue: The Embassy of Canada to Japan, Executive Dining Room (4F)
Date:  July 17th (Tuesday), 12.00-14.00
Price: 2000 yen for members, 3000 yen for non-members
**Guests are required to present a government issued photo ID at entrance. A mandatory bag check will also be conducted.
Event Details
July 17 (Tue)


Registration Closed
12:00 ~ 14:00
Embassy of Canada, Tokyo
Embassy of Canada, Tokyo Executive Dining Room, 4th Floor Akasaka 7-3-38 Minato-ku, Tokyo 107-0052 **Guests are required to present a government issued photo ID at entrance. A mandatory bag check will also be conducted.
¥2000 for members ¥3000 for non members
Registration is Closed